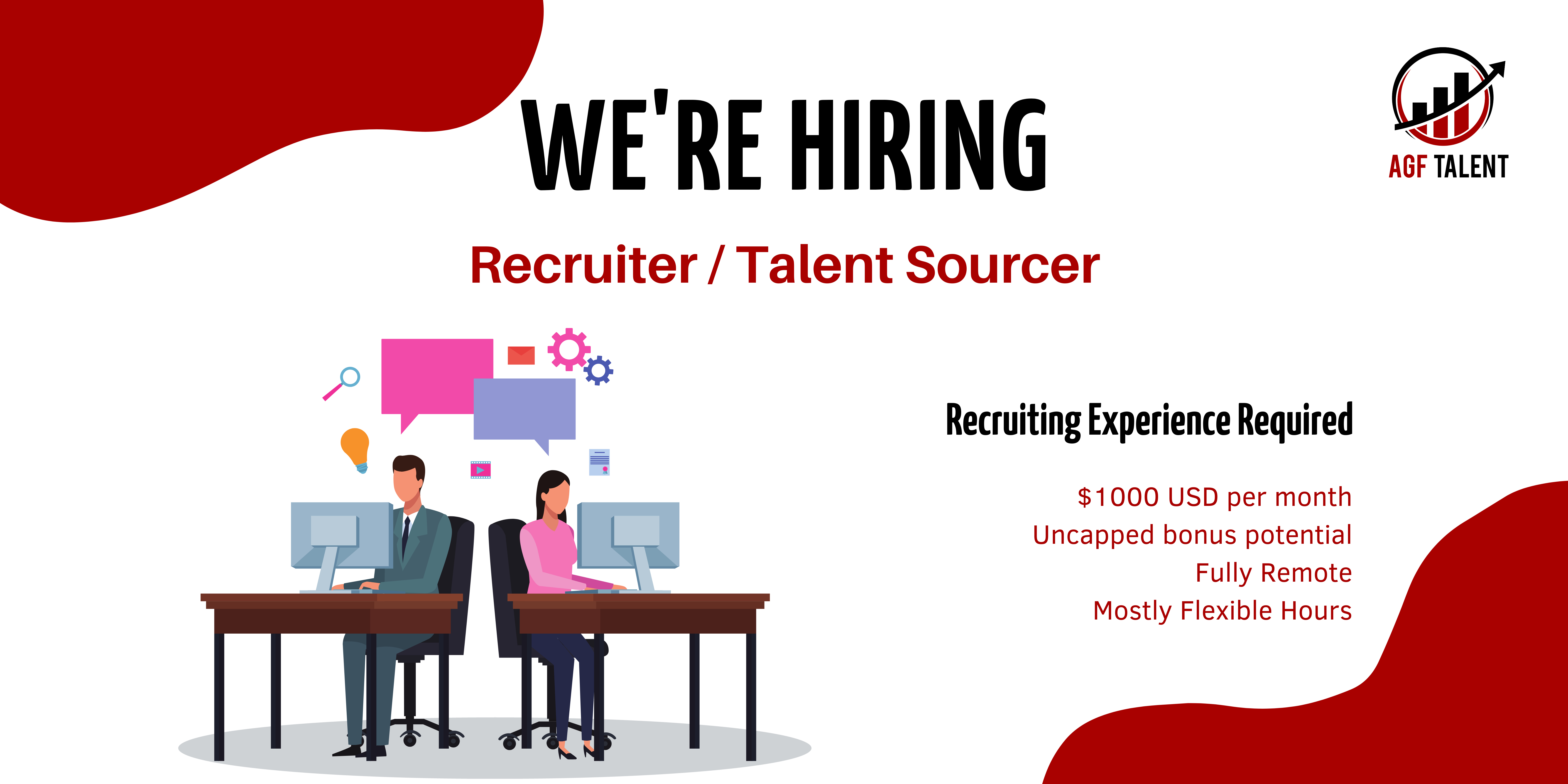 ABOUT AGF TALENT
Hi there! I'm Leon and I am the founder of AGF Talent.
At AGF Talent we find, match, and submit great candidates for our business clients across multiple industries.
We are a driven, US-based recruiting agency looking for a superstar recruiter.
If you're an experienced recruiter who is open to being a part of a fresh company that's motivated to grow quickly, please apply!
ABOUT YOU
Ideal candidates have a full range of recruiting experience including talent sourcing, engaging candidates, and interviewing.
You have experience attracting candidates using various methods including social media platforms and job posting sites, especially LinkedIn, Indeed, etc.
You're also ultra motivated to contribute to growing a new company and benefiting from that growth. You're flexible and open to contributing at times in ways that may be outside of the scope of your normal recruiting duties as we grow.
You have a majority (if not all) of these characteristics:
2+ years of full cycle recruiting experience (preferred)
Experience sourcing for US-based talent (preferred)
Excellent English skills, both verbal and written
Experience developing sourcing strategies that attract passive and active job seekers
Proactive problem-solver who identifies issues and generates solutions with minimal supervision
Demonstrated ability to organize and prioritize projects in a deadline-oriented business environment
Proven track record of taking initiative to continuously improve candidate and client experience and recruiting operations
Excellent interpersonal skills: a great communicator who can build relationships easily
Excellent attention to detail
Experience using Applicant Tracking Systems (ATS) and processes to manage the candidate lifecycle
Experience using common sourcing tools like LinkedIn Recruiter, Sales Navigator, etc.
Have a great appreciation for metrics and understand that tracking operations progress leads to success
ABOUT THE ROLE
Source and recruit candidates by using databases, social media, and other effective means
Post jobs to appropriate job boards and track progress accordingly
Sort, prioritize, and track resumes and job applicants in appropriate systems
Track and update prospect engagement and sourcing statuses daily
Maintain up-to-date job descriptions
Schedule and perform screening interviews using various reliable recruiting tools/methods to filter candidates
Assess applicants' relevant knowledge, skills, experience, and aptitudes
Provide our clients with pre-screened, qualified candidates for their open jobs
Collaborate with AGF Talent team
Regularly communicate with clients about candidate updates
WHY TEAM UP WITH US?
$1000 USD monthly pay PLUS uncapped placement bonuses
You'll get paid $500 bi-weekly
Get paid for great performance!

If you personally source a candidate who our client hires, you'll receive bonus pay EVERY time

Much of the work allows for flexible hours
IMPORTANT NOTES
To ensure we're a great match for each other, there will be a short paid trial period or paid test tasks.
We're based in the Eastern USA in the EDT time zone. Most of your work-related meetings, interviews, and other communication must take place sometime between the hours of 0900 and 1700 EDT although much of your work time will be flexible.
HOW TO APPLY
Click the Apply button and complete the application.
Please include your resume
If you're short-listed, we'll reach out to schedule an interview.
Thanks a lot for considering teaming up with me!
Cheers,
Leon Perry