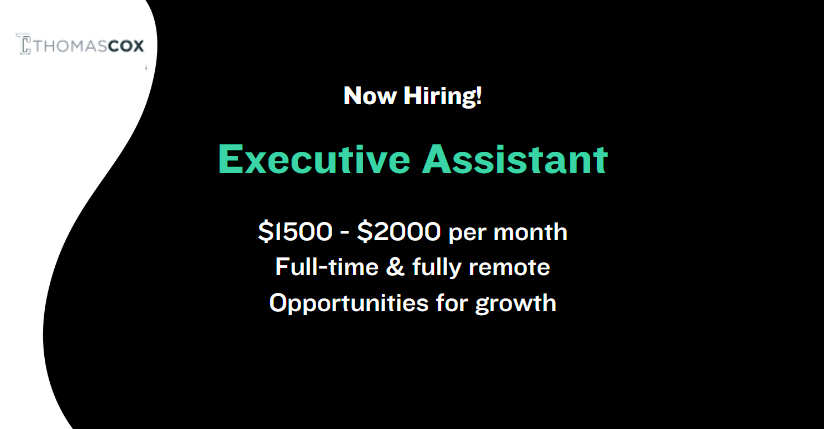 Thomas Cox is an entrepreneur and owner of several businesses that include; Mealfit and Table & Thyme Catering in Birmingham, Alabama; a wedding planning business, Weddings Costa Rica; an Airbnb property on Weiss Lake called Walcox Point, and Cox Capital Real Estate, which buys Multi-Family Real Estate, Single Family homes and Private Money lending.
Coming on board would include coming alongside Thomas and his team to take care of some of the daily tasks that come with running these businesses. See what each entity entails in the links below:
Meal Delivery Service in Birmingham, AL | Nutrition Made Easy
Table & Thyme Event Catering in Birmingham, Alabama
As an Executive Assistant, the purpose is to support the owner and administrator in achieving enhanced efficiency and effectiveness in their operations. This entails the optimization of tasks and research, with the potential for additional responsibilities as the role evolves.
Key Responsibilities:
🧾 Assisting with daily tasks, including email management, inventory ordering, and tracking vending sales.
📦 Creating event signage.
📑 Preparing travel itineraries.
💼 Managing video posting, influencer outreach, and conducting research.
📊 Conducting business and real estate research.
🧾 Handling online orders.
📦 Managing podcast communications.
📑 Scheduling deliveries and coordinating with drivers.
💼 Reviews follow-up.
Working Hours ⏰: This is a full-time position, and the working hours are from 12 PM to 8 PM CET.
To excel in this role, the ideal candidate should have:
✅ Proficiency in using Google Docs and Spreadsheets.
✅ Familiarity with Active Campaign, Canva, Pinterest, and Gmail.
As the ideal candidate, they are expected to:
✅ Be Self-motivated and have a strong drive to work independently.
✅ Have effective communication skills.
✅ Exhibit organisational abilities and time management skills
✅ Be willing to learn and have a commitment to self-improvement.
Brownie Points for:
✅ Knowledge of business and marketing.
✅ Future-oriented thinking, with the ability to anticipate and adapt to changes as our business continues to expand and acquire new ventures.
Why Join?
💰 Competitive Salary: A monthly salary of $1,500-$2,000*.
🌴 Global Work Flexibility: Work remotely from anywhere in the world.
🌟 Opportunities for Growth
*Please note that this is a gross salary and that you are responsible for any tax-related procedures in your country of residence. We kindly ask you to apply only if you are happy to work remotely as an independent contractor.
The JobRack team is working with Thomas Cox to help them find their new team member.
The hiring process for this position will include the following steps:
Completing the application form on JobRack.
Recording a short video introduction of yourself.
If shortlisted, complete test tasks.
Attending video interviews to discuss your previous experience and the new role in more detail.
The JobRack team has gained a full understanding of Thomas Cox's needs and will review, filter, screen, and test candidates in line with this.
To ensure your application is considered, take the time to carefully read the job description and submit a high-quality application.
We will, of course, provide you with feedback throughout the process.
At the request of Mealfit applications for this position must be submitted through JobRack and direct contact with the employer is not allowed. If you have any questions, please contact JobRack at: olivera@jobrack.eu
Please note that this position requires 100% commitment and is not suitable for those seeking a side job, freelance work, or part-time employment. It is important to only apply if you intend this to be your primary and only full-time job. Any attempts to work multiple full-time jobs without the knowledge of your employer may result in termination and a ban from applying to other jobs on the JobRack site.
We look forward to receiving your application!
To make sure you receive updates on your application please add olivera@jobrack.eu to your email address book.
Got questions about working remotely? Check out JobRack's FAQ for answers to everything you might want to know. https://jobrack.eu/jobseeker-faq