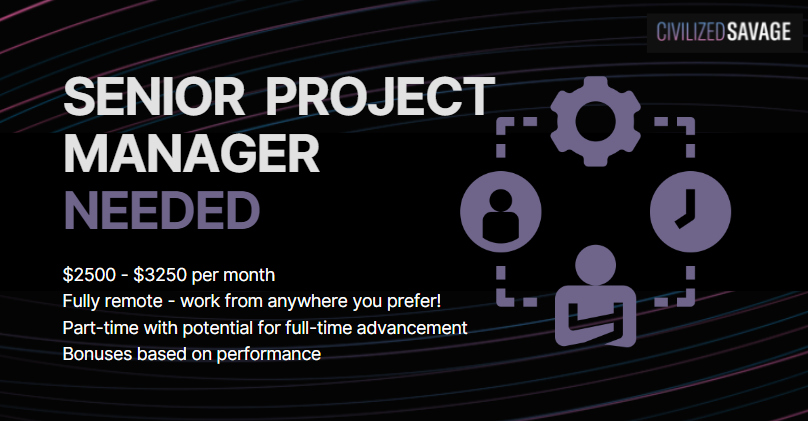 Click here to watch a video by TJ Sullivan, the CEO of Civilized Savage:
Civilized Savage is a cutting-edge company specializing in building headless websites and implementing comprehensive SEO strategies. With a passion for delivering exceptional results, they cater to mid-market and enterprise clients through custom, new projects and high-converting pre-built templates.
Clients choose to work with Civilized Savage due to their remarkable track record and impressive portfolio of high-level sites and successful case studies. The majority of their business comes from referrals, which speaks volumes about the level of satisfaction their clients' experience. Additionally, their expertise in SEO guarantees top-ranking positions for target keywords, helping businesses gain visibility and drive significant organic traffic.
Over the past few years, Civilized Savage has achieved tremendous success. They have played a vital role in generating millions of dollars in SEO sales for their clients. Their clientele includes celebrities, startups, crypto firms, and enterprise publication groups, among others. As a forward-thinking company, they have developed scalable offers that align perfectly with the growing AI market, positioning their headless sites for continued success in the future.
If you are looking to join a dynamic and results-driven company, Civilized Savage is the go-to choice. Join their team and contribute to their ongoing success as they revolutionize the digital landscape!

Civilized Savage is seeking a highly skilled and experienced Senior Project Manager to join their dynamic team. As the Senior Project Manager, you will have a direct impact on the company's success by streamlining operations, automating processes, coordinating with the development team and clients, and assisting in scoping new projects. Your expertise and strategic approach will make a significant difference in optimizing efficiency and driving the company's growth.
In this role, you will:
🔹 Coordinate with clients and developers to ensure seamless project execution and client satisfaction
🔹 Handle internal tasks and administrative duties, freeing up time for the team to focus on core responsibilities
🔹 Streamline and organize the company's operations, implementing efficient processes and systems
🔹 Provide operational and automation suggestions to enhance productivity and effectiveness
🔹 Manage and coordinate team members, both internally and externally, fostering collaboration and efficient workflows
🔹 Support TJ, the CEO, in scoping new projects and partnerships, leveraging your operational expertise
During the first few weeks in this role, you will actively contribute by providing operational insights, organizing communication channels, and syncing with team members and existing projects. Your goal will be to identify areas for improvement, implement streamlined processes, and ensure smooth coordination.
This is a part-time role to start, with the potential for transition to full-time for the right candidate within the first month. For part-time hours, the ideal schedule would be from 11 AM to 3 PM EST or 10 AM to 2 PM EST, allowing for flexibility and collaboration with the team. For full-time employment, the working hours will be from 7 AM to 3 PM EST, Monday to Friday, with availability for weekends if needed or in urgent situations.
Join Civilized Savage as the Senior Project Manager and contribute to their ongoing success by streamlining operations, optimizing processes, and leading a team dedicated to delivering exceptional results. This is your chance to make a significant impact and be part of a company that rewards loyalty and high performance!

To excel in this role, you need:
🔹 4+ years of experience in project management
🔹 Familiarity with automation, operations and streamlining processes
🔹 Understanding of content management systems (CMS)
🔹 Intelligence to make informed decisions and navigate challenges effectively
🔹 Good communication skills to interact confidently with team members and clients
🔹 Strong organizational abilities to keep things running smoothly and efficiently
🔹 Confidence in dealing with various stakeholders, both internally and externally
🔹 Strong understanding of technology and its applications to contribute effectively to the team
Brownie points for:


🔸 Familiarity with CMS platforms and tools like Ahrefs and Search Console
🔸 Experience with Slack and/or Zapier
🔸 Understanding of AI concepts and tools
🔸 Programming skills, particularly in React and Laravel
The ideal candidate is a team player who takes ownership of their role within the company. You will have the opportunity to organize and lead the team, setting high standards and ensuring efficient workflows. Your ability to establish strong relationships with clients and earn their trust will be crucial in delivering exceptional service.
What's in it for you?
$2500 - $3250 per month*
Part-time, with the potential to advance to full-time within the first month
Bonuses based on performance
* Please note that this is a gross salary and that you are responsible for any tax-related procedures in your country of residence. We kindly ask you to apply only if you are happy to work remotely as an independent contractor.
** The salary range listed is for a full-time role. Please note, the position will start part-time for the first month, and compensation will adjust accordingly once transitioned to full-time.

This job opening is actively seeking the perfect candidate and will close once found. To ensure your application is considered, take the time to carefully read the job description and submit a high-quality application that stands out.
JobRack has been contracted by Civilized Savage to support them in their hiring process on their behalf.
As part of this, the JobRack team has gained a full understanding of the needs of Civilized Savage and will review, filter, screen and test candidates in line with this.
Candidates that best meet the needs of the employer will be submitted as part of a final shortlist. Feedback will be provided throughout the process.
At the request of Civilized Savage, applications for this position must be submitted through JobRack. Direct contact with the employer is not desired. If you have any questions, please contact JobRack at martin@jobrack.eu
The hiring process for this position will include the following steps:
Completing the application form on JobRack.
Recording a short video introduction of yourself.
If shortlisted, completing test tasks.
Attending video interviews to discuss your previous experience and the new role in more detail.
In case you are applying for a full-time role: Please note that this position requires 100% commitment and is not suitable for those seeking a side job, freelance work, or part-time employment. It is important to only apply if you intend this to be your primary and only full-time job. Any attempts to work multiple full-time jobs without the knowledge of your employer may result in termination and a ban from applying to other jobs on the JobRack site.
– Only candidates from Eastern Europe are eligible to apply –
To make sure you receive updates on your application please add martin@jobrack.eu to your email address book.
Got questions about working remotely? Check out JobRack's FAQ for answers to everything you might want to know. https://jobrack.eu/jobseeker-faq