About the company
We are Insight Matters!
We are looking for a proactive, all-round Senior Executive Assistant / Chief of Staff to join our team on a full time basis.
In a nutshell, the jack-of-all-trades who takes all sorts of tasks off the plates of the owners.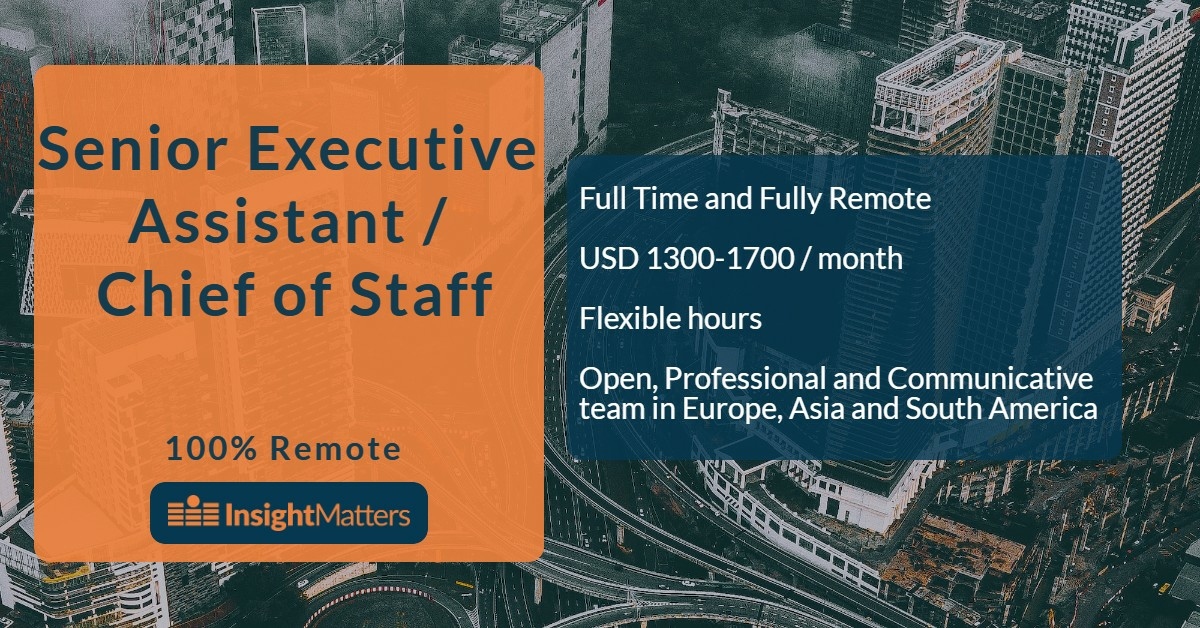 We provide our clients with financial insights that they use to grow faster, better, and healthier businesses. Based on our input, they make life changing decisions about hiring, investing, and improving their strategic plans.
Our clients use our services to answer critical business questions: like, "Can they invest in hiring a new person? Are they getting the right return on marketing? Where are they leaving money on the table? Which products or services are most profitable?"
We are a full-service financial support service, working mainly with e-commerce and service companies - delivering the full finance function, from accounting to fractional CFO services, and from management reporting and analysis to internal control.
Our team is fully remote and currently spread out over various countries in Europe, Asia, and South America, while our clients are mainly in the US, Europe, and Asia. We are a team of 14 and are growing rapidly.
Our #1 priority is delivering quality to our clients – we are their trusted partner for big decisions, so quality is non-negotiable.
We place a strong emphasis on asking questions, learning from one another, and learning from our mistakes in our open, informal, equal, and trust-based team environment.
You'll be working mostly with Rob and Maj, our management team, on the one hand, and supporting the team on the other.
About the role
How we define your success:
You will be responsible for planning and managing administrative activities for the management team. Success in this role requires strong leadership, communication, organizational, and decision-making skills.
The founder is on top of deadlines, emails and other communications – You are the right hand that makes sure that he stays on track
The founder has time to focus – by strategically planning the agenda, taking over communication and taking care of all the small things that eat his time (business and personal)
You have a list of problems you prevented, rather than a list of problems you solved – looking forward and preventing problems big and small is absolutely critical
Typical things on your plate:
Manage, prioritize and answer the emails
Take action points from meetings and delegate to the team
Support marketing & sales activities (Linkedin posts, making visuals)
Monitor various online communities & identify opportunities for us to be helpful & visible
Execute research on clients, potential partners
Update our CRM
Make/send invoices & remind clients about outstanding invoices
Convert notes/sketches into PPT slides
Take ownership over administrative tasks
Prepare meetings for the founder
Prepare & book travel (business trips)
Anything that comes up that would distract the founder
About you
To succeed in this role, you most likely have:
A minimum of 2 years of experience as Chief of Staff or top level Executive Assistant in a fully remote environment
Experience in emptying out the plate of tasks founders/CEO's
Super strong English communication skills, both spoken and written
Dare to ask questions
Discretion – we work with highly sensitive information
Superhuman organization skills, attention to detail & problem-solving skills
Business acumen – you understand the agenda of the management team and know what to prioritize
Ability to learn new software tools and systems quickly, including workflow automation tools like Zapier and Make.
Flexibility & adaptability
Proactive approach – don't wait for someone to give you a task, but ask 'what can I take off your plate?'
Stable and reliable internet connection is required (30/3 Mbit minimum)
Working hours that overlap with CET
Brownie points for:
Bachelor's degree in business administration or in a related industry like economics or finance
Experience using project management tools – preferably ClickUp
IT skills including good knowledge of Google Workspace and password manager tools
Knowledge of Quickbooks and/or Xero
What's in it for you?
A key role in a young and dynamic team that is changing the future of our clients
Working closely with 2 complementary founders
Working with in an open, supportive and positive team culture
A setting where initiative is appreciated and rewarded
Benefits
Competitive salary of 1300-1700* USD per month, depending on your experience
Full-time and fully remote working environment
25 days paid holiday per year
Performance related bonus scheme/profit share in the future
Monthly contribution to your home office costs
Flexible working hours – you set your own work rhythm, with the only requirement that at least 50% of your standard work hours fall between 8am-5pm CET
*Please note that this is a gross salary and that you are responsible for any tax-related procedures in your country of residence. We kindly ask you to apply only if you are happy to work remotely as an independent contractor.
How to apply?
Fill in the application form once you click "Apply"
You'll get a request to send us a video of up to 3 minutes (but not longer) to briefly introduce yourself and tell us a little about you and why you think you're the right person for our role
Initial brief interview
Test project - A chance to see if our working styles match
In depth Skills interview – We'll focus on the skills and experience you bring to the table
In depth Culture-fit interview – We'll focus on your style, our style and our company culture. This fit is crucial to make our working relation a win-win
We're looking forward to hearing from you!