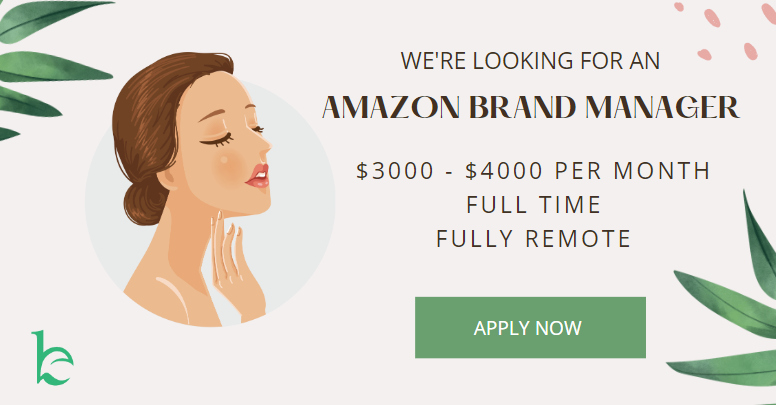 Click here to watch a video by Prudence from Beauty by Earth:
Beauty by Earth is a personal care company focused on bringing highly effective and incredibly clean products to people at an affordable cost.
The passion for natural, high-performing, safe ingredients was born with the birth of their kids (pun intended). They were fed up with the skincare industry's casual disregard for their family's health. Every time they put on sunscreen, they traded protection from the sun for exposure to harmful toxins. Enough was enough!
That's how two friends became founders and co-owners of one of the fastest-growing natural skincare companies in the United States. Today, you can find Beauty by Earth products on their website, their app, on Amazon, Target.com, Walmart.com, Grove Collaborative, Thrive Market, iHerb, and so many more stores!
When it comes to the company culture, everyone works together well and keeps each other well-informed through Slack. They prefer their workplace like their skincare products - non-toxic!
The company is looking for an Amazon Brand Manager to handle the day-to-day tasks of the Amazon marketplaces.
Within this role, you will:
Ensure all product listings are up at the right price
Set up deals & coupons while ensuring profitability
Set up listings for new products and collaborate with the launch team to get those products launched
Manage lean inventory
Rerank products
Implement strategies to move through overstock
Coordinate with the ads team
During the first few weeks, you will receive training on the products and the market, learning more about the company and how they do business. After that, you'll do an analysis of improvements to be made and build out projects to implement these improvements.
This is a full-time role, with the perk of choosing your own working hours. However, you need to have at least 4 hours of overlap in the 9 AM - 5 PM EST time zone.
To be successful in this role, you need:
Experience as a Brand Manager on Amazon working for at least a mid-high seven-figure seller
Ability to easily navigate through Amazon Seller Central
Knowledge of downloading and analysing reports from Amazon
Understanding of what it takes to rank a product
Willingness to learn & implement improvements
Microsoft Office
Familiarity with Amazon-related tools (Helium 10, Sellerise, etc)
Brownie points for experience in running an Amazon team!
Our ideal candidate is:
Data-focused and well organised
Self-starter and go-getter
Excellent communicator (if you don't know something, Google it or ask for help!)
Excited to learn and improve
If you like challenges and enjoy dealing with the ever-changing field of Amazon, then this is the perfect role for you!
What's in it for you?
$3000 - $4000* per month
7 days off per year
Full time
Fully remote - work from home or anywhere you prefer!
Friendly and positive team with no toxic personalities involved
Opportunities for growth
*Please note that this is a gross salary and that you are responsible for any tax-related procedures in your country of residence. We kindly ask you to apply only if you are happy to work remotely as an independent contractor.
This position will be closed as soon as we find the perfect match. So, make sure to read the description carefully and take your time to submit a high-quality application that stands out.
If you apply, JobRack will respond promptly and keep you updated throughout the process.
Please then expect the hiring process to include:
1 - Filling in the application form once you click "Apply"
2 - Being invited to record a short video to introduce yourself
3 - Completing test tasks, if short-listed
4 - Attending video interviews where you will have the opportunity to talk more about your previous experience and the new role
Applications are only accepted through JobRack. Beauty by Earth has specifically requested that you do not contact them directly. If you have any questions please contact us using dwy@jobrack.eu
To make sure you receive updates on your application please add recruitment@jobrack.eu to your email address book. Got questions about working remotely? Check out JobRack's FAQ for answers to everything you might want to know. https://jobrack.eu/jobseeker-faq