About the company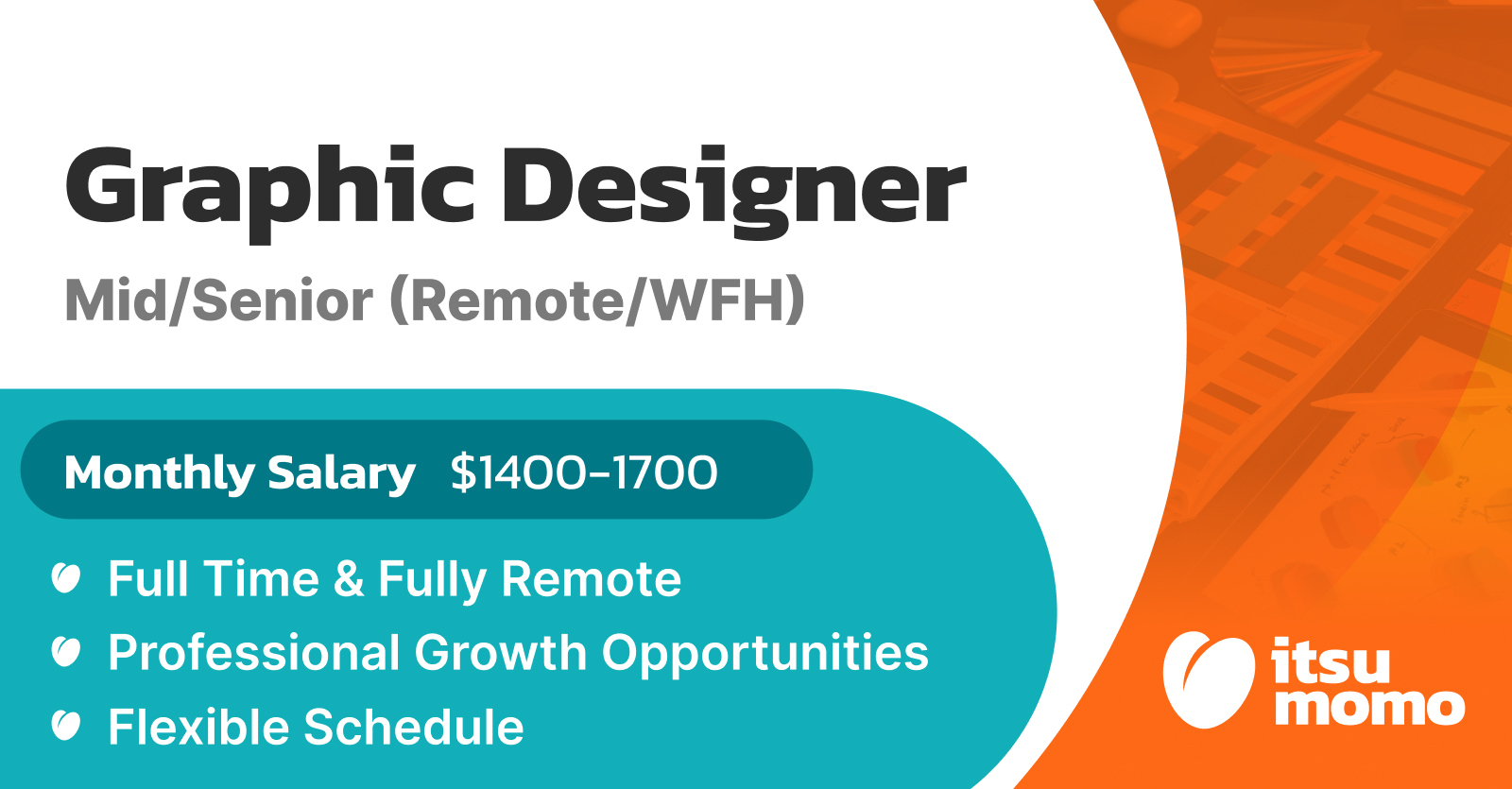 Itsumomo LLC is a rapidly growing international ecommerce business that provides its customers worldwide with innovative and high-quality consumer goods products across multiple niches.
We deeply value work-life balance and flexibility, understanding that the well-being of our team members is intrinsically tied to our overall performance. We encourage a work style that fosters creativity, collaboration, and productivity while driving excellence and high standards.
We take pride in the diverse, talented global team we have cultivated, and we are continually seeking individuals who share our vision and are eager to make a positive impact. By joining Itsumomo LLC, you become part of a dynamic, supportive team that is dedicated to being a market-leading ecommerce company, and creating a nurturing environment where everyone can thrive.
About the role
As a Graphic Designer, you will work remotely and collaborate with our diverse global team to produce high-quality design work for our eCommerce stores & consumer goods products. Your responsibilities will include creating visually compelling graphics for our online shopping platforms, social media channels, marketing campaigns, and other marketing materials. You will also be responsible for original product designs, product packaging, maintaining our brand identity and creating a consistent look and feel across all customer-facing communications. This is an excellent opportunity for a mid/senior level graphic designer looking to join a dynamic team and make a significant impact in the world of ecommerce.
Responsibilities
Design and create visually engaging graphics for use on our ecommerce platforms, social media channels, marketing campaigns, and other marketing materials
Create product designs that will be put in the hands of 1000s of customers worldwide.
Collaborate with cross-functional teams to ensure design work aligns with marketing and brand objectives
Develop and maintain our brand identity, including color palettes, typography, and style guidelines
Create product packaging designs that align with our brand and resonate with our target audience
Design and produce digital and print materials such as brochures, flyers, and advertisements
Stay up-to-date with industry trends and emerging technologies in graphic design
Manage multiple design projects and meet tight deadlines
About you
Requirements
Bachelor's degree in Graphic Design, Visual Arts, or a related field
At least 5 years of professional experience in graphic design or a related field
A strong portfolio showcasing your design skills and creativity
Mastery of design software such as Adobe Creative Suite
Excellent written and verbal communication skills
Ability to work collaboratively and proactively in a remote team environment
Strong project management skills and the ability to handle multiple projects at once
A strong consideration for this role will be given to candidates who have the flexibility to work hours that can accommodate overlap with Asia-based time zones. This is desirable in order to facilitate smooth and efficient collaboration with our international teams.
What's in it for you?
Monthly salary between $1400 - $1700*
Choose Your Own Schedule
Training & Development Under Senior Level Creative Leads
Work From Home & Fully Remote
Paid Time Off
Performance Bonus
*Please note that this is a gross salary and that you are responsible for any tax-related procedures in your country of residence. We kindly ask you to apply only if you are happy to work remotely as an independent contractor.
How to apply?
This position will be closed as soon as we find the perfect match. So, make sure to read the description carefully, apply promptly, and take your time to submit a high-quality application that stands out.
If you apply, we will respond promptly and keep you updated throughout the process.
Please expect the hiring process to include:
1 - Filling in the application form once you click "Apply"
2 - Completing test tasks if short-listed
3 - Being invited to record a short video to introduce yourself & answer a few job-related questions.
4 - Attending video interviews where you will have the opportunity to talk more about your previous experience and the new role
Applications are only accepted through the link. If you have any questions please contact us using ecom@itsumomo.com