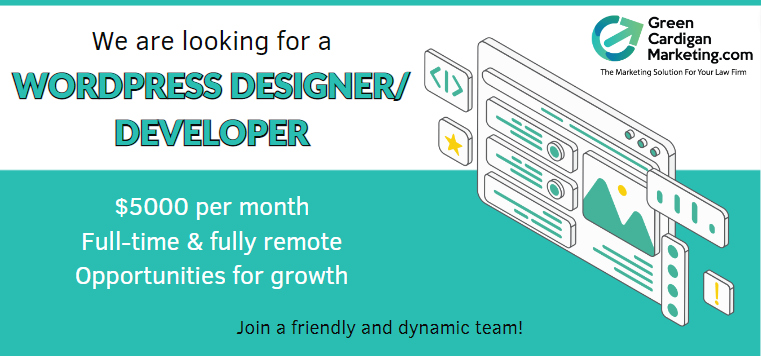 Click here to watch a video by Ashley from Green Cardigan Marketing:

Green Cardigan Marketing is a dynamic team of digital marketing experts who specialise in serving the legal community. They go above and beyond in providing top-notch SEO, Social Media, Email Marketing, and Website Design services. Communication is key, and they pride themselves on keeping clients in the loop every step of the way.
In just three years, Green Cardigan Marketing has experienced tremendous growth, and they're not slowing down anytime soon. Their goal is to expand their offerings while continuing to prioritise client satisfaction.
The team at Green Cardigan Marketing is a close-knit group of seven individuals with a range of backgrounds and experiences. While most of them are young, they take their work seriously and are committed to delivering exceptional digital marketing services to their clients.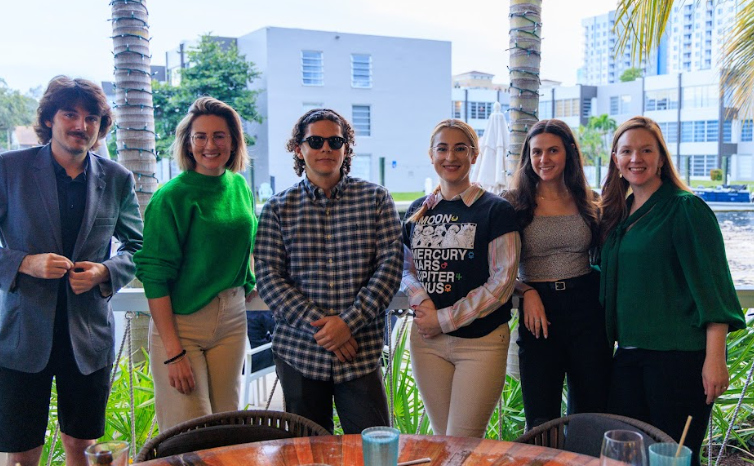 Despite being spread across multiple locations, with team members in South Florida, Alabama, France, and the Philippines, they work together seamlessly to provide a collaborative and creative environment. Every team member's voice is heard, and they are encouraged to think outside the box to come up with innovative solutions.
At Green Cardigan Marketing, fun and hard work go hand in hand. If you're interested in becoming a part of this team, read on!
Green Cardigan Marketing is currently looking for a WordPress Designer/Developer to join their team.
In this role, your responsibilities will include:
Designing new websites for clients
Redesigning existing client websites
Building landing pages or specific features and functionalities for clients' websites
Maintaining the health and backup of current client sites
Troubleshooting and fixing any issues with clients' websites
Collaborating with clients to ensure their website design meets their needs and expectations
Staying up to date with industry trends and best practices in web design
Ensuring all client websites are up to date with the latest software updates and plugins
Regularly backing up client websites to ensure data security
Performing quality assurance tests to ensure all websites are functioning properly
In this role, the majority of responsibilities will be focused on design, with tasks ranging from building new websites for clients to designing landing pages and redesigning existing websites. The remaining responsibilities will be "back of the house" type tasks such as maintaining the health and security of client websites by performing regular backups, updates and troubleshooting any issues. Additionally, the ideal candidate will be expected to keep up with industry trends and ensure that client websites are always up-to-date with the latest software updates and plugins.
The ideal candidate for this role should be extremely proficient in WordPress since the team works exclusively on WordPress websites, so there won't be extensive WordPress training provided. During the first week, you will receive training on the processes, work on some maintenance tasks for current clients, and start a small design project.
This is a full-time role, and you should be able to work with a minimum of 3 hours overlap with the team's schedule, which is from 8:30 AM EST to 5:30 PM EST.
Working as a designer at Green Cardigan Marketing is exciting because no two days are the same. Each client has a unique story and vision, and as the designer, you will have the opportunity to tell that story and bring that vision to life. Additionally, the team is hardworking, talented and a joy to work with - this creates an exceptional work environment where everyone feels supported and motivated!

To excel in this role, you need:
Previous experience designing in WordPress, with the ability to create beautiful websites in a short amount of time
Ability to take a template and make it look and feel custom to the client with little to no custom coding
Proficiency in using different page builders, as all clients have different requirements
Proactivity and ownership of assigned projects
Strong work ethic
The ideal candidate for this role should be able to work independently as a part of a small team. You should have the drive to go above and beyond, offering advice, solutions, great features, and functionality to provide the best possible outcome for the client. The role requires someone who can work efficiently without the need for hand-holding, ensuring a high-quality outcome for each project. If you're also someone who would be excited to bring your unique skill set to make a site look incredible, this is a perfect role for you!

What's in it for you?
$5000 per month*
Paid time off
Full-time & fully remote
Growth opportunities
*Please note that this is a gross salary and that you are responsible for any tax-related procedures in your country of residence. We kindly ask you to apply only if you are happy to work remotely as an independent contractor.
This position will be closed as soon as we find the perfect match. So, make sure to read the description carefully and take your time to submit a high-quality application that stands out.
If you apply, JobRack will respond promptly and keep you updated throughout the process.
Please expect the hiring process to include:
1 - Filling in the application form once you click "Apply"
2 - Upload your CV
3 - Short interview with a technical recruiter
4 - Coding test, if short-listed
5 - Attending video interviews with the hiring company where you will have the opportunity to talk more about your previous experience and the new role
Please note that this is a full-time position as part of the team, requiring 100% commitment, this is not a side job/freelance/part-time and therefore you should be intending this to be your primary and only full-time job/commitment.
If you are found to be attempting to work multiple full-time roles without the knowledge of your employer your employment is likely to be terminated and you will be banned from applying to other jobs from our site.
Applications are only accepted through JobRack. Green Cardigan Marketing has specifically requested that you do not contact them directly. If you have any questions please contact us using sandra@jobrack.eu
– Only candidates from Eastern Europe are eligible to apply –
To make sure you receive updates on your application please add recruitment@jobrack.eu to your email address book.
Got questions about working remotely? Check out JobRack's FAQ for answers to everything you might want to know. https://jobrack.eu/jobseeker-faq