There's a lot of detail below for you to read, if you don't like detail then no worries, you're not for us!
Also, the role requires a couple of hours to work on both Saturday and Sunday - so please, make sure to proceed with the application only if this works for you too!
Click here to watch a short intro video from Noel, CEO of Jobrack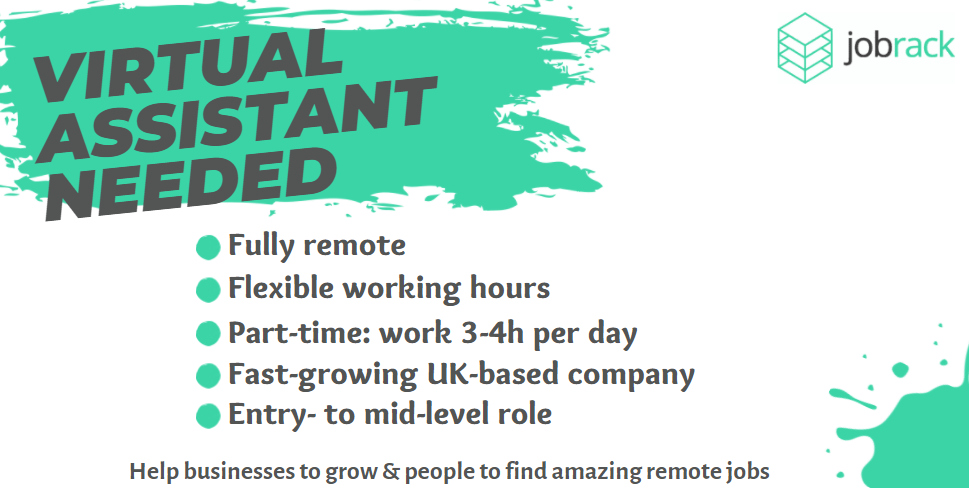 Jobrack helps business owners from all over the world hire quality remote team members from Eastern Europe.
Our clients work with us for three key reasons:

1. We give them access to high-quality talent that they couldn't find themselves
2. We give them the help and support to hire successfully
3. Because they trust and relate to Noel, our CEO, as a business owner and entrepreneur.
Over the last few years we've grown massively, here are a few of our achievements and there's lots more to come:
Over 500 Eastern Europeans successfully placed into great jobs with employers all over the world.
Launched a Done With You Service with immediate success and 5x'd our revenue within 5 months.
Helped hundreds of businesses grow through hiring great team members.
⇢Noel (Owner/CEO) - handles all Sales and Marketing, leads the day to day business, decides priorities and currently handles the customer interaction for the Done With You service
⇢Ilma (Hiring success manager) - handles all customer support and DIY job post operations and sourcing.
⇢Mirela (Jobseeker success specialist) - focuses on bringing more jobseekers to JobRack and supporting them every step of the way
⇢Slobodanka (Recruitment specialist) - leads on the Done With You roles helping our clients to hire great team members through a highly targeted sourcing and recruitment approach.
⇢Doris (Recruitment Assistant) - supports the Done With You service handling all aspects of awesome job post creation and day to day recruitment operations
We also have a wider team of developers, designers and content writers that support us too.
Here's us on our Christmas party zoom call….more Christmas themed dressing up needed next time!

We are looking for a Virtual Assistant to help us source, filter and review great candidates for our Do It Yourself recruitment service (https://jobrack.eu/pricing for more details) as well as helping us manage our social media and communicate with our jobseekers. We're moving quickly and you will have a chance to learn different aspects of our business and grow with us.
A big focus of the role will be sourcing candidates through creative means for a variety of roles. In addition, you'll play a key part in improving our engagement with our jobseekers' community.
You will be working directly with Ilma and your focus will be on supporting DIY operations and customer service too.
Key priorities for the role:
Source and attract outstanding candidates for our DIY roles
Identify new opportunities for sourcing great candidates
Manage our social media and jobseekers' community
Help out our recruitment team during the weekend - a couple of hours needed on both Saturday and Sunday to cover basic sourcing tasks.
Having a growth and action mindset will be key for you to succeed in this role.
Tools we use:
Asana
Clickup
Slack
GSuite
Helpscout
Bonjoro
Loom
Requirements
Our most suitable candidate:
Is willing to learn about the different aspects of business
Is willing to work a couple of hours on Saturday and Sunday to cover basic sourcing tasks
Has excellent written and spoken English
Has strong attention to detail
Is process- and improvement-focused
Gets on well with people and likes leading people to success
Is likeable
Is trustworthy
Is driven, proactive and energetic
Is willing to represent JobRack when engaging with jobseekers, e.g. creating video content for them when necessary,
Brownie points for experience with any or all of the following:
Previous recruitment experience is good to have but not required
Previous experience with Customer Support-related roles
Previous experience with managing social media/ community management
In summary, you will enable us to continue to scale the Do It Yourself service whilst ensuring absolute focus on a great experience for our customers and our candidates.
Benefits
Competitive salary
20 days of paid holiday per year
Performance-related bonus scheme/profit share in the future
Training budget and time
Working hours: Approximately 20 hours per week. We are flexible on when you work although if you have some flexibility to make our weekly team meeting (9 am CET Monday's and occasional role briefing meetings that would help.)
Chance to grow as JobRack grows
As JobRack grows our team will grow too, enabling you to develop your leadership, management and operations skills and abilities.
When it comes to salary there are significant opportunities for growth there too. We always want to pay well and reward our staff both through competitive salaries, bonuses/profit share and through other meaningful perks and benefits.
As you help us succeed as a business you will be rewarded appropriately. We talk openly about salary and benefits making sure we focus on all the aspects that make our team happy and thrilled to be working at JobRack for the long term.
First I'll let some of our team answer that:
"I've been working with Jobrack for almost a year and I could not be happier. Really love the flexibility and work-life balance that the job offers. Most importantly, it's been an honour to work with and learn from Noel and the team. Flawless communication flow, unlimited guidance and freedom, feeling valued and heard is something I wish everyone had a chance to experience in their career. I was happy enough to experience all these things with Noel and Jobrack and cannot thank him enough! Cheers to many more years of growing together in such a healthy working environment."
"I've found with JobRack exactly what I would want from a job with which I want to build my career - work that has an actual purpose of helping others, constant support and encouragement on professional and personal development and a team that is committed to one mutual goal and is sharing a vision of creating something great! You know you're in the right place when Mondays go from dreadful to exciting and energy-boosting! :)" Ilma
"After a long time, I feel like a valued worker. Working with the JobRack team makes me happy because they appreciate each effort and commitment. I had no idea I would find an employer like Noel. He is very supportive and does everything to have satisfied employees. That makes JobRack unique."
This position will be closed as soon as we find the perfect match. So make sure to read the description carefully and take your time to submit a high-quality application that stands out.
If you apply we'll respond promptly and keep you updated throughout the process.
As part of the hiring process there will be the following steps:
1 - Click Apply and complete the application form - following that you'll get a request to send us a link to a video of up to 5 minutes (not longer) of you introducing yourself and tell us a little about you and why you think you're the right person for our role.
2 - There'll be a second stage, likely an initial interview but possibly something different based on some processes we're testing right now
3 - In-depth interview - Chance for us to talk in more detail together about your future working with us.
4 - Test project - a chance to see how well we work together.
5 - Referencing - we'll want to speak to at least one of your current or previous employers to hear the great things they'll say about you