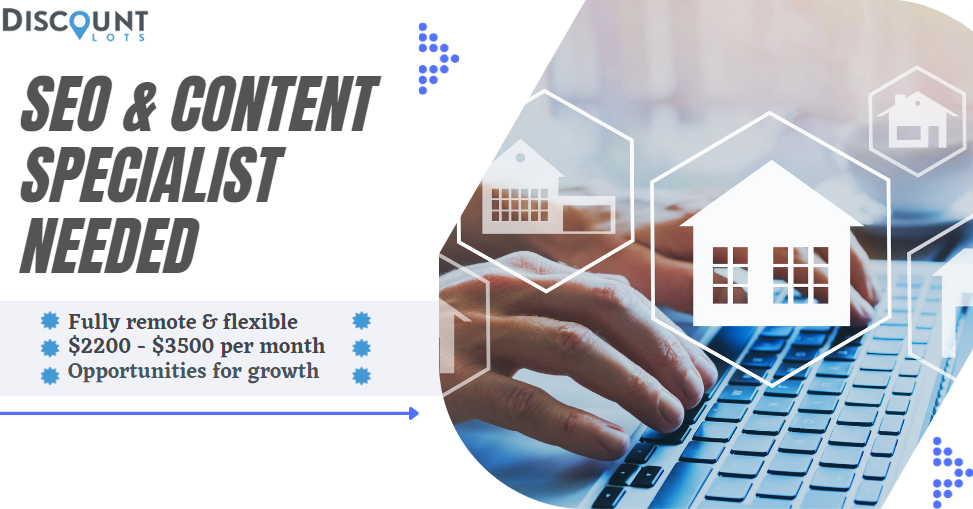 Discount Lots sell vacant land online & we are changing the way real estate is transacted online. We went from 0 to 60 employees in 2 years and we expect to expand two to three times our current size in the next year.
Our portfolio of buyers has grown rapidly over the last several years and we have expanded into new states and markets at a very fast rate. We continue to grow into new markets and are excited to keep making land affordable for a growing audience of buyers.
We have circa 45 USA-based and 15 Philippines-based members. We are a young entrepreneurial company where we value each and every member. No idea is a bad idea, and we will listen and try most ideas a team member has.
We are growing our team and are looking to hire an SEO & Content Specialist to create high-quality, content-driven SEO to boost our Google rankings. As our SEO & Content Specialist, you will be a direct driver of growth and public awareness of the Discount Lots brand.
As our SEO & Content Specialist, you will:
Develop strategy & content to increase the Discount Lots profile and visibility for a variety of keywords
Do extensive copywriting and strategy development
Raise organic rankings of Discount Lots
Provide feedback and guidance on keywords to target
Help develop the voice of the brand across different channels to support SEO efforts
Work with the entire marketing team & leaders
Report to the Director of Marketing
Tasks will be assigned by the leaders in conjunction with the Director of Marketing. We will use Skype and Google Drive.
Although we count on your experience & expertise, onboarding will be organised for you to introduce you to our business model and the land/real estate business. We also have technical SEO capabilities in-house to support you in gathering data and determining good keywords to target.
As our successful applicant, you need to have:
Demonstrated experience in improving rankings for English language websites
Excellent problem-solving skills
Experience helping brands raise to the top for key generic search terms
Experience in either marketing or technical SEO as well as content development
Proficiency with Microsoft Office applications
Brownie points for:
Understanding of image and video editing (only to collaborate with our media team to make it more streamlined; you would not need to do image/video editing)
Our ideal colleague is:
Oriented towards diving in and getting work done
Able to communicate ideas clearly and concisely
What's in it for you?
Monthly salary of $2200 - $3500*
Highly flexible working schedule with meetings during EST (GMT -5) mornings and afternoons a few times per week
Work Monday to Friday
Potential to grow to a Marketing Coordinator/Director position
Performance-based bonuses
*Please note that this is a gross salary and that you are responsible for any tax-related procedures in your country of residence. We kindly ask you to apply only if you are happy to work remotely as an independent contractor.
This position will be closed as soon as we find the perfect match. So, make sure to read the description carefully and take your time to submit a high-quality application that stands out.
If you apply, we'll respond promptly and keep you updated throughout the process.
As part of the hiring process, there will be the following steps:
1 - Click Apply and fill in the application form
2 - You'll be invited to record a short video to introduce yourself
3 - Test tasks for the shortlisted candidates
4 - Video Interview where we can get to know each other in more depth

Applications are only accepted through JobRack. The employer has specifically requested that you do not contact them directly. If you have any questions please contact us using support@jobrack.eu
To make sure you receive updates on your application please add recruitment@jobrack.eu to your email address book.

Got questions about working remotely? Definitely check out our FAQ for answers to everything you might want to know. https://jobrack.eu/jobseeker-faq