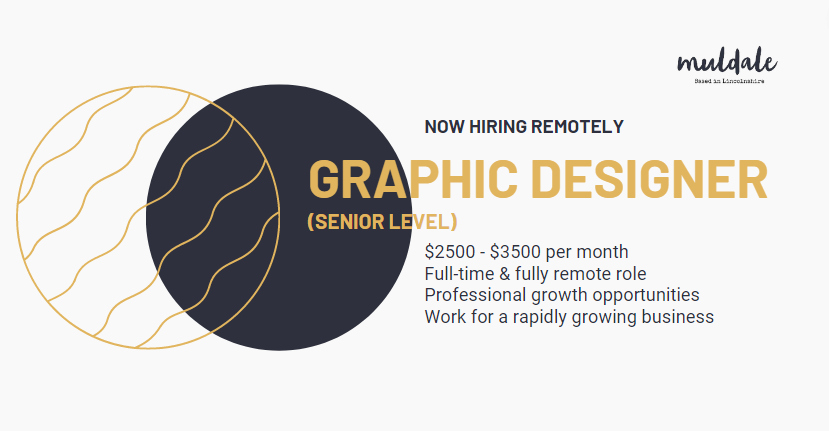 Muldale is a fast-growing, passionate, and innovative e-commerce company specialising in home and garden products. Since their beginnings in 2020, they have cultivated three unique brands, catering to different price points and customer preferences. Their incredible growth has seen them soar from a startup to a seven-figure business, and they are excited to be on track for impressive revenue next fiscal year!
Their diverse and talented team of 12 members is the heart of the success of the business, hailing from various backgrounds, ages, and experiences in areas such as buying, marketing, accounting, and customer services. The team prides itself on its dynamic, hardworking, and supportive environment, where collaboration and structure help them deliver exceptional products and services.
As a company that's driven by targets and growth, they are constantly researching and exploring new ways to improve their operations. They believe that their commitment to innovation sets them apart from the rest.
The whole team values the bonds they form amongst each other, and they love spending time together outside the office. Throughout the year, they host regular meetups for food, drinks, and camaraderie, making every day at Muldale an adventure worth having. 🎉
Are you a creative powerhouse, ready to make your mark on the world of e-commerce? If so, we've got an incredible opportunity for you! 🎨
Muldale is seeking a talented and passionate Senior Graphic Designer to take the reins of their branding and graphic design efforts. In this role, you'll have the chance to create captivating marketing materials and contribute to the design of their amazing products.
As the Senior Graphic Designer, you'll be responsible for tasks such as redesigning marketing materials for a bakeware product, and crafting compelling materials for new products from scratch. With Muldale being a small but ambitious business, this is a fantastic opportunity to have a significant impact on the future of its brands and products. You'll play a crucial role in shaping its visual identity and propelling the business forward.
More specifically, your key responsibilities will include:
1️⃣ A+ Amazon content creation & stunning product imagery 📸
2️⃣ Eye-catching packaging design & informative leaflets 📦📄
3️⃣ Unique pattern designs for product enhancement 🎨🖌️
Collaboration is key at Muldale, and you'll be working closely with the team, which includes two Buyers, Sales & Operations Director, Product Research, and Content Manager. Reporting directly to the Sales & Operations Director, you'll be well-supported and encouraged to bring your creative vision to life.
As you join Muldale, the team will provide you with a comprehensive 30-day training plan. This plan will cover the products, brands, strategies, and tools to ensure you feel confident and prepared to tackle the exciting projects ahead. Once your training is complete, you'll dive into your role with a couple of concrete tasks, allowing you to put your newfound knowledge and skills to work.

🌟Muldale is searching for a creative thinker who's ready to challenge the status quo and redefine its approach to design.
🚀As the go-to expert in the business, the ideal candidate must be comfortable taking ownership of the creative process and steering Muldale's visual identity towards new heights.
To excel in this role, you need to have:
At least 2 years of experience in branding and design on the Amazon platform
2 years of experience in packaging design
Proficiency in Photoshop and other Adobe products
A confident and experienced approach, with the ability to work independently
Excellent communication skills, open to asking questions and challenging assumptions
A curious mindset, eager to learn and leverage data to improve designs
Proven experience in refreshing website design and creating eye-catching newsletters
The ability to research the market and competitors for informed decision-making
Experience in creating visual content for Amazon and other digital marketplaces/platforms
What's in it for you?
Monthly salary of $2500 - $3500* 💰
Full-time & fully remote role 🌍
Schedule flexibility – just ensure at least a 4-hour overlap with the UK team between 9 am to 4 pm 🕘
Growth opportunities – potential to expand your role into supervisory or managerial capacities as the business continues to grow 🌱
*Please note that this is a gross salary and that you are responsible for any tax-related procedures in your country of residence. We kindly ask you to apply only if you are happy to work remotely as an independent contractor.

This job opening is actively seeking the perfect candidate and will close once found. To ensure your application is considered, take the time to carefully read the job description and submit a high-quality application that stands out.
The hiring process for this position will include the following steps:
Completing the application form on JobRack.
Recording a short video introduction of yourself.
If shortlisted, completing test tasks.
Attending video interviews to discuss your previous experience and the new role in more detail.
In case you are applying for a full-time role: Please note that this position requires 100% commitment and is not suitable for those seeking a side job, freelance work, or part-time employment. It is important to only apply if you intend this to be your primary and only full-time job. Any attempts to work multiple full-time jobs without the knowledge of your employer may result in termination and a ban from applying to other jobs on the JobRack site.
Applications for this position must be submitted through JobRack and direct contact with the employer is not permitted. If you have any questions, please contact JobRack at jasmina@jobrack.eu.
– Only candidates from Eastern Europe are eligible to apply –
To make sure you receive updates on your application please add recruitment@jobrack.eu to your email address book.
Got questions about working remotely? Check out JobRack's FAQ for answers to everything you might want to know. https://jobrack.eu/jobseeker-faq