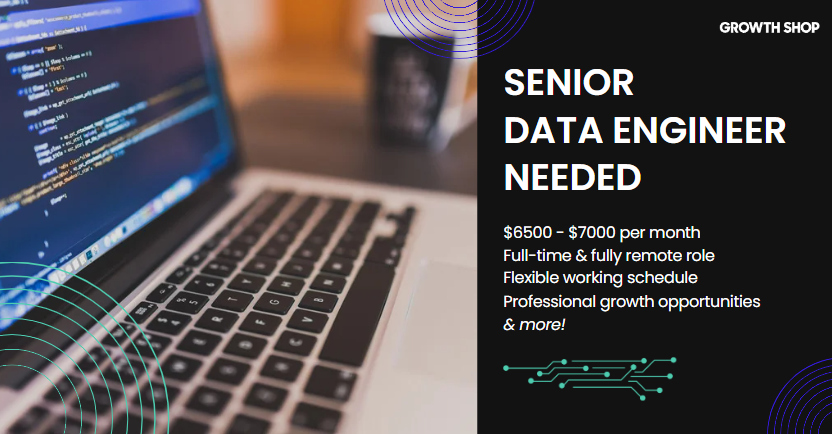 Click here to watch the video from Mark, the founder of Growth Shop:
Growth Shop is a trailblazer in the world of direct-to-consumer brands, with a strong focus on the US market and global expansion ambitions. They have a proven track record of scaling e-commerce brands, including the success story of Nectar Sleep, which they took to a $500M exit and became the fastest-growing e-commerce brand in the USA in 2018.
As a new team member, you'll work on one of Growth Shop's heavily funded, internal portfolio brands. However, your role doesn't end there. You'll also contribute to the development of their cutting-edge technology platform, a standalone business line that sets Growth Shop apart from the competition.
Their past achievements speak for themselves, and the future holds even greater opportunities for Growth Shop. As they continue to grow and expand their global presence, they invest heavily in the personal and professional growth of their team members, ensuring that they remain at the forefront of the industry.
They are a fully remote, globally distributed team of around 10 highly experienced professionals which have driven over $1B in e-commerce revenue over the last decade. You'll be joining a diverse group of experts who are passionate about what they do and committed to making a difference.
At Growth Shop, they pride themselves on hiring the best of the best and creating a culture of excellence, zero ego, and genuine passion for their work. The team members share the same ethos, and they are dedicated to investing in their personal growth. Growth Shop's Glassdoor reviews provide a glimpse into the exceptional work environment they foster; check them out here. Also, get a taste of the team and company culture by checking out The Growth Shop Show on YouTube.

Are you a highly skilled data engineer ready to make a real difference in the e-commerce industry? Growth Shop is looking for a talented Senior Data Engineer to join its team and become an integral part of the mission to revolutionise the direct-to-consumer landscape.
As a Senior Data Engineer, you will play a pivotal role in shaping the future of Growth Shop. You'll be the driving force behind their custom data platform, which will be utilised across growth marketing and operations for the global brand portfolio. As they refine this platform, you'll also be instrumental in productising it as a standalone SaaS tool. 🚀
Growth Shop believes in empowering team members with trust, autonomy, and freedom. They are looking for someone who can take a core problem, map out the solution, and execute it with minimal oversight. There's no micromanaging here – just a supportive environment that enables you to excel. 🌱
As a Senior Data Engineer, your main responsibilities will include:
1️⃣ Building and maintaining the complete end-to-end data infrastructure 🔨
2️⃣ Constantly improving and enhancing workflow efficiency 🔧
3️⃣ Leading the development and evolution of the SaaS tool 🌐
4️⃣ Working closely with the CEO and Chief Growth Officer, engaging in high-level planning sessions and driving the strategic direction of the data initiatives. 🤝
While you'll already possess the technical skills needed for the role, Growth Shop is committed to providing all the time and support you need to get up to speed and fully integrate with the team. 🛠️
From day one, you'll be executing tasks, working directly with the founders, and participating in senior planning sessions. You'll be deeply integrated into the team, making an impact from the get-go. ⚡
Are you ready to be an integral part of Growth Shop's mission and make a real difference at Growth Shop? Apply now and help them transform the e-commerce industry! 🎯
To excel in this role, you need to have:
💼 At least 5-10 years of experience in building and executing rapidly in data engineering.
🔧 Extensive experience with Google BigQuery, Cloud Console APIs, and Tableau.
🌟 Strong character traits, including being super intelligent, a self-starter, an excellent communicator, having top-notch time management skills, and no ego.
Ideally, you also have:
📊 Proficiency with marketing platforms such as Meta, Google Ads, and Shopify for e-commerce
🚚 Deep understanding of order management and logistics (preferred)
📈 Experience with Looker (nice to have)
Beyond your technical skills, Growth Shop is looking for someone with an entrepreneurial spirit who understands that "there's always a smarter way." 🚀 They value team members who can spot opportunities across the entire business and contribute to the rapid growth while enjoying the journey.
Your biggest asset will be your ability to adapt, innovate, and identify smarter solutions to help drive the success of Growth Shop. 💡 They want someone who is not only skilled in their field but also proactive in identifying opportunities for improvement across the entire organisation.

What's in it for you?
💰$6500 - $7000* per month
💼 Full-time position with flexible working hours to accommodate Eastern European time zones and crossover with US EST.
📚 Support for any necessary training to help you excel in your role.
🚀 Huge growth potential and opportunities for career advancement.
✈️ Team trips to Dubai, where the CEO is based.
💰 Opportunities for salary increases and performance-based incentives.
📈 Access to equity after your first year with the company.
*Please note that this is a gross salary and that you are responsible for any tax-related procedures in your country of residence. We kindly ask you to apply only if you are happy to work remotely as an independent contractor.
This position will be closed as soon as we find the perfect match. So, make sure to read the description carefully and take your time to submit a high-quality application that stands out.
If you apply, JobRack will respond promptly and keep you updated throughout the process.
Please expect the hiring process to include:
1 - Filling in the application form once you click "Apply"
2 - Upload your CV
3 - Short interview with a technical recruiter
4 - Coding test, if short-listed
5 - Attending video interviews with the hiring company where you will have the opportunity to talk more about your previous experience and the new role
Please note that this is a full-time position as part of the team, requiring 100% commitment, this is not a side job/freelance/part-time and therefore you should intend this to be your primary and only full-time job/commitment.
If you are found to be attempting to work multiple full-time roles without the knowledge of your employer your employment is likely to be terminated and you will be banned from applying to other jobs from our site.
Applications are only accepted through JobRack. Growth Shop has specifically requested that you do not contact them directly. If you have any questions please contact us using martin@jobrack.eu
– Only candidates from Eastern Europe are eligible to apply –
To make sure you receive updates on your application please add recruitment@jobrack.eu to your email address book.
Got questions about working remotely? Check out JobRack's FAQ for answers to everything you might want to know. https://jobrack.eu/jobseeker-faq