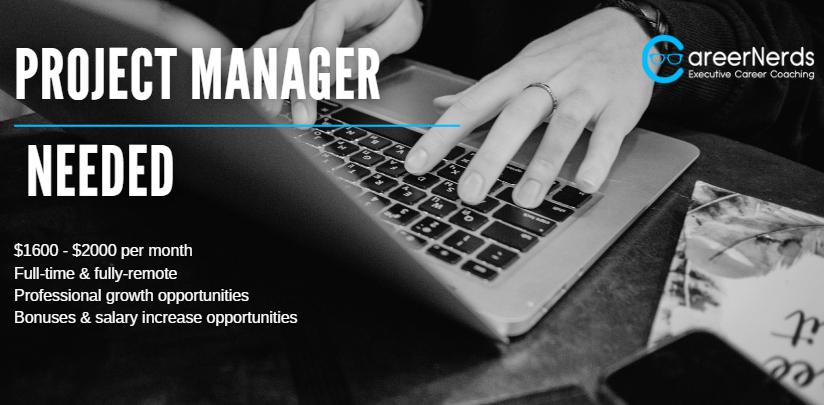 Click here to watch the video from Tom, the CEO of CareerNerds:
CareerNerds is a professional career coaching company that helps Executives and Managers make their next career move. They help professionals in the USA leverage personal branding and networking to find new jobs.
You can check out what their clients say about them in these videos:
They are expanding the CareerNerds team to hire more coaches, operations and salespeople since their business is growing.
They have 6 company values that they try to live by:
Excellence: They deliver excellence and top quality in everything they do.
Growth: They champion growth for their team, clients & company. They have a growth mindset.
Motivation: They motivate & inspire others and themselves. They show what is possible, by doing the impossible.
Community: Everything they do is to help and support one another in the CareerNerds family.
Creativity: They love to innovate and create new things that work better.
Simplicity: They make things simple, easy and organized. They make the complex simple.

Their core team consists of:
→ Tom (Founder & CEO) - 20 years of corporate experience in USA and Europe. Started CareerNerds 4 years ago in Prague and grew it to 400+ clients, all of them are in the USA. He leads strategy, operations, and business day by day and makes decisions regarding the company's future.
→Aida (Operations manager) - in Bosnia and Herzegovina. Monitors whole operations, builds and maintains systems and handles human resources.
→John and Scott (Networking coaches) -in the US. Work with their US-based clients and help them with their Networking efforts; experienced Career Coaches.
→Saška (Marketing) - in Bosnia and Herzegovina: Saška and her team handle a part of client support, by executing Lead Generation strategies.
→Alan (Sales representative) - in Spain: Alan and his team are in charge of getting new clients in the pipeline and helping the sales process and team.

CareerNerds team is looking for a Project Manager who will be responsible for planning and developing the digital marketing department, overseeing various projects within the company, from the initial ideation through to completion but also working on supporting business growth and organisation. Within this role, you will help the CareerNerds team optimise their processes whilst working with an inspiring and successful international team and their US-based clients. The Project Manager's role will also be to identify and mitigate risks which may impact the successful delivery of projects.
As the Project Manager at CareerNerds, you will:
Organise the digital marketing department
Manage small and big projects inside the company and deliver them on time ensuring quality standards are met according to company SOPs (Standard Operating Procedures)
Help the team be organized weekly
Find areas of improvement & optimize the processes
Cooperate closely with the rest of the team, while working on different projects
Keep track of different projects using online tools
Work with internal teams, external vendors and clients to control deadlines and manage scope changes
Report to Tom (CEO) and Aida (Operations Manager)
Training and support will be provided for you for the first two weeks. The CareerNerds team will provide video materials, worksheets and live listening to coaching calls, as well as internal team meetings to show you the ropes and help you adjust to the apps and the processes they use.
To excel in this role, you need to have:
Excellent project management skills with a minimum of 3 years of experience
Experience working directly with people and handling most of the communication
Excellent written and spoken English skills and willingness to interact with their US-based clients and European team members
Prior experience with Project Management tools, like ClickUp, Trello, Asana, Slack, HubSpot
Eagerness to learn new software tools you have not used before
Excellent organisational & problem-solving skills
Analytical mind, with advanced Excel skills
Brownie points for:
Experience in digital marketing, PPC and SEO
A university degree
Experience with ClickUp, ActiveCampaign, Wix, GoogleAds, FacebookAds
What's in it for you?
Monthly salary of $1600 - $2000*
Full-time role (8 hours per day 5 days per week)
20 paid holidays per year
Promotions and salary increases will be based on regular performance evaluation
Potential for higher-level roles as the team grows, as CareerNerds is open to crafting roles related to your skills and strengths
*Please note that this is a gross salary and that you are responsible for any tax-related procedures in your country of residence. We kindly ask you to apply only if you are happy to work remotely as an independent contractor.
This job opening is actively seeking the perfect candidate and will close once found. To ensure your application is considered, take the time to carefully read the job description and submit a high-quality application that stands out. Please not that the client is receiving applications until the 7th of April.
The hiring process for this position will include the following steps:
Completing the application form on JobRack.
Recording a short video introduction of yourself.
If shortlisted, completing test tasks.
Attending video interviews to discuss your previous experience and the new role in more detail.
In case you are applying for a full-time role: Please note that this position requires 100% commitment and is not suitable for those seeking a side job, freelance work, or part-time employment. It is important to only apply if you intend this to be your primary and only full-time job. Any attempts to work multiple full-time jobs without the knowledge of your employer may result in termination and a ban from applying to other jobs on the JobRack site.
Applications for this position must be submitted through JobRack and direct contact with the employer is not permitted. If you have any questions, please contact JobRack at vlatko@jobrack.eu
– Only candidates from Eastern Europe are eligible to apply –

To make sure you receive updates on your application please add recruitment@jobrack.eu to your email address book. Got questions about working remotely? Check out JobRack's FAQ for answers to everything you might want to know. https://jobrack.eu/jobseeker-faq