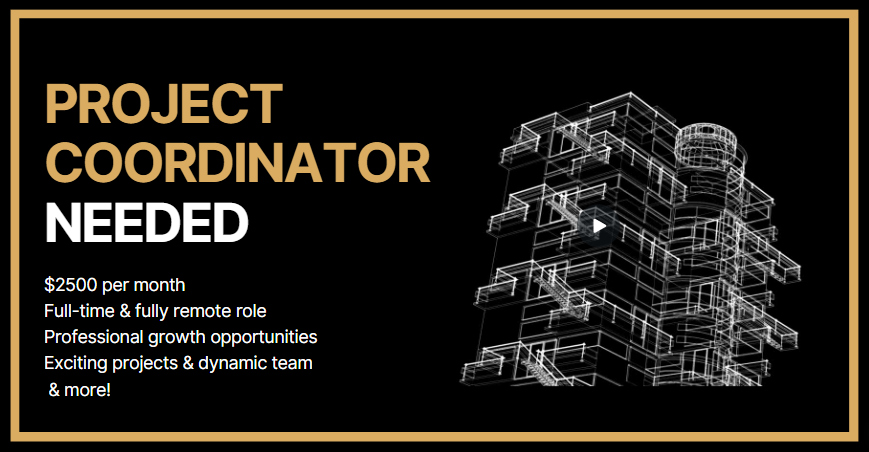 A fast-growing Real Estate Development and Investment Firm from Ontario, Canada developing landmark buildings and creating attractive investments for their partners is seeking an ambitious and talented individual to assist their executive team meaningfully.
The company is currently looking for a full-time Project Coordinator to join them and work closely with project managers to execute ongoing projects. This is an exciting and dynamic role for someone who can keep the executive team organised and handle miscellaneous tasks to free up their time. More specifically, this is an opportunity to work on exciting projects with a driven team.
More specifically, within this role you will:
Provide daily administrative and clerical support to the project management team;
Maintain job files, project digital database;
Attend project meetings, record and distribute minutes;
Track job progress and changes, alert project management staff and operations staff to delays, issues etc.;
Schedule meetings, and site visits, etc.;
Coordinate pricing issues, material orders, and deliveries with project management staff;
Process submittals and project approvals;
Provide general administrative support (phone, email, etc.);
Work in compliance with company policies;
Complete other duties which may be assigned on a project-to-project basis;
To excel in this role, you need to have:
Experience with project management and project coordination
Proficiency with the Google Workspace and Microsoft Applications
Exceptional organisational skills and the ability to manage multiple tasks
Hardworking and passionate attitude towards your job
Ability to work within the EST business hours
Brownie points for:
Experience with Quickbooks, Yardi, Wrike
What's in it for you?
$2500* per month
Full-time and fully remote role
Working hours within the EST business hours i.e. 7 AM EST to 3 PM EST, 10 AM to 6 PM EST twice per week
Rewarding work at a great company; the projects are interesting and there is a real opportunity to help shape the future of the company
Salary increases based on your performance and contribution to the company
*Please note that this is a gross salary and that you are responsible for any tax-related procedures in your country of residence. We kindly ask you to apply only if you are happy to work remotely as an independent contractor.

This position will be closed as soon as we find the perfect match. So, make sure to read the description carefully, apply promptly, and take your time to submit a high-quality application that stands out.
If you apply, JobRack will respond promptly and keep you updated throughout the process.
Please expect the hiring process to include:
1 - Filling in the application form once you click "Apply"
2 - Being invited to record a short video to introduce yourself
3 - Completing test tasks if short-listed
4 - Attending video interviews where you will have the opportunity to talk more about your previous experience and the new role
Applications are only accepted through JobRack. Real Estate Development and Investment Firm has specifically requested that you do not contact them directly. If you have any questions please contact us using olivera@jobrack.eu
– Only candidates from Eastern Europe are eligible to apply –
To make sure you receive updates on your application please add recruitment@jobrack.eu to your email address book.
Got questions about working remotely? Check out JobRack's FAQ for answers to everything you might want to know. https://jobrack.eu/jobseeker-faq