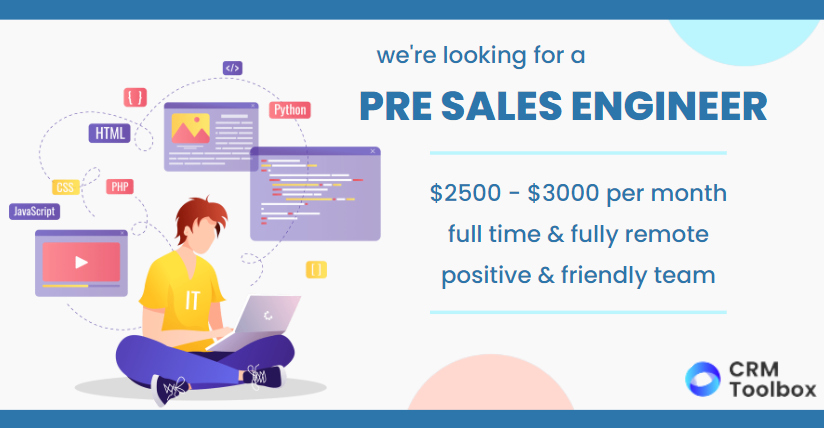 CRM Tool Box is an Elite Tier HubSpot partner with a passion for integrating, migrating, onboarding, and training their customers. The company was founded in 2014 by Ranya and Izzy. They started the company in their living room and built it up from the ground, becoming an Elite Tier HubSpot partner and winning Partner of the Year for two years in a row!
Today, CRM Tool Box offers the following services to Midmarket and enterprise businesses:
→ HubSpot implementation and onboarding
→ Data migration from other CRM Services or marketing automation platforms to HubSpot
→ Tech stack integration with HubSpot
→ HubSpot website migration and development
There are three core values guiding the team: Passion, Commitment and Adaptability.
The team following these core values enjoys great freedom, empowerment, and accountability. They support each other and share a common objective - to deliver success to their customers!
Right now, CRM Tool Box is looking for a Pre Sales Engineer to attend sales calls, solve complex business problems for the customers, and present solutions after engineering them
As the new Pre Sales Engineer, you will:
Support the Sales Teams by identifying customers' pain points
Translate technologies into solutions that meet the customers' business goals
Build the ideal solutions for prospects' pre-sale needs
Understand and qualify customers' goals and challenges
Lead technical pre-sales conversations and discovery
Drive conversations with prospects around integration and data migration
Develop relationships with customers & partner channels
Develop relationships with the sales team, and work with them to ensure they are delighting customers & prospects
Be the voice of the product & work with the product team to make sure they are delivering quality results
Train the sales teams on product updates & new features
You will have a two-week onboarding period that will include shadowing sessions during the sales calls. You will learn more about the products and the solutions the company offers for its customers.
As a full-time employee at CRM Tool Box, you will also have a chance to receive ongoing training in tray.io and nodeJS from basic to advanced levels.
The tools you'll be using are ClickUp, Slack, G-Suite, Zoom, G Suite, Figma, and Basecamp for customer-facing communication. This is a full-time role, and you'll need to be available preferably from 11 AM to 7 PM CET, with the perk of working a four-day week two weeks per month.
To be successful in this role, you need:
A relevant degree or an equivalent qualification
Excellent English skills
Experience with SaaS & cloud-based software
Experience in a consultative, customer-facing role
Strong business acumen and storytelling skills
Fundamental understanding of the client-server relationship and how an API works
Demonstrated analytical skills & the ability to manage micro to macro-level discussions with functional and technical resources
Bonus points for:
Background in Sales/Solutions Engineering, Customer Success, Technical Consulting or Project Management
Knowledge of digital marketing and sales/service process
Knowledge of HubSpot
This role is perfect for someone self-sufficient and adaptable, always ready to take on new challenges and constantly learn and grow. You need to be a team player, but also someone who enjoys having autonomy within their own role.
If on top of that you have a Can-Do attitude and strong communication skills - go ahead and apply!
What's in it for you?
$2500 - $3000 per month
Full time & fully remote
A four-day workweek twice a month
Day off on your birthday :)
Unlimited books on Kindle
Opportunity for salary increase every six months
Potential for career growth
*Please note that this is a gross salary and that you are responsible for any tax-related procedures in your country of residence. We kindly ask you to apply only if you are happy to work remotely as an independent contractor.
This position will be closed as soon as we find the perfect match. So, make sure to read the description carefully and take your time to submit a high-quality application that stands out.
If you apply, JobRack will respond promptly and keep you updated throughout the process.
Please expect the hiring process to include:
1 - Filling in the application form once you click "Apply"
2 - Being invited to record a short video to introduce yourself
3 - Completing test tasks, if short-listed
4 - Attending video interviews where you will have the opportunity to talk more about your previous experience and the new role
Applications are only accepted through JobRack. CRM Tool Box has specifically requested that you do not contact them directly. If you have any questions please contact us using support@jobrack.eu
To make sure you receive updates on your application please add recruitment@jobrack.eu to your email address book.
Got questions about working remotely? Check out JobRack's FAQ for answers to everything you might want to know. https://jobrack.eu/jobseeker-faq