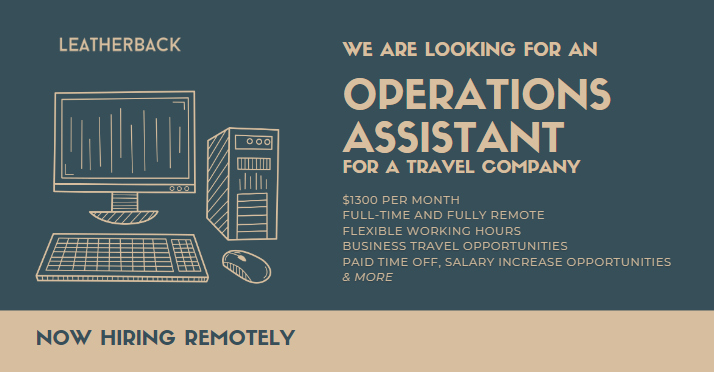 Do you love travel? Are you an experienced operations assistant or travel operations manager looking for a new level for your career?
Leatherback Travel might be a fit.
Adventure travel isn't just a fun industry to work in - it is also exploding in growth and one of the most exciting places to be.
Leatherback Travel is an Australian group of fast-growing adventure travel brands. It is made up of Patch Adventures, Magnificent Rail,and Camino Women.
Our goal is to create the best journeys that travellers will ever go on and deliver the most memorable adventures in our customers' lives.
The team you'll be joining has decades of travel industry experience between them, which gives us the ability to create amazing adventures. Our guests love the trips we design! They go to all sorts of unusual and unique places with great support and communication from Leatherback Travel's Customer Service Team.
The future for Leatherback Travel is huge. We are not just launching new brands; we are doing it with a purpose. We don't want to just take our customers to the best places… We want to build and create new experiences to share with the world. Our goal is to build walking trails, hiking lodges and create completely new travel routes in places that are unexplored and unappreciated.
Our team works remotely, and right now consists of seventeen people excited about their work. We are passionate about delivering world-class experiences and delivering the absolute best trips. Not just that, we have the best marketing, and give people the best customer service possible. Just read our amazing reviews! We are looking for people who share our results-driven approach and desire to become better at what they do. If that sounds like you, read on!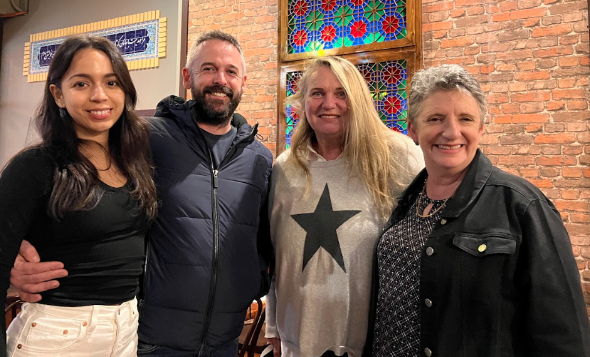 Right now, our company is achieving success and receiving many booking enquiries, which is why we are looking for our next Operations Assistant for our Trip Design Team.
Because of you, our trips will run like clockwork, and be amazing experiences for our guests.
The three key focus areas of your role will, therefore, include
✅ Vetting hotels and other service providers for suitability to work with Leatherback Travel
✅ Preparing trips to make them 'marketing ready' - gathering information about the destination and supplier and inputting them into our internal systems for use by our sales and marketing teams
✅ Liaising with suppliers to confirm booking information and follow up on specific questions that our guests have
More specifically, within this role, you will:
Use internal systems to thoroughly check hotel websites/online reviews to check for suitability
Research key information for each trip (climate, cultural expectations, power plugs, altitude, etc) and input them into our internal systems
Help to create accurate 'Trip Notes' for each trip that accurately reflect the trip and answer any questions that someone might have
Liaise with suppliers to manage ad hoc changes to trips and confirm answers to questions
Organise and send client information to our suppliers
Report directly to the Trip Design Lead and collaborate with the broader team
Once you join our team, full-time training will last for a month and it will consist of training sessions for 1-2 hours each day and self-guided SOP reviews. However, from very early on, you will also be contributing real work to the team and adding value, starting with simple tasks and growing in difficulty. The company will provide you with a monthly budget of $50 per month ($600 per year) to spend on online courses related to your role.

In order to excel in this role, you need to have:
Experience in some operational roles and tasks, e.g. customer support, administration, EA/VA/Ops Assistant, or similar.
Excellent attention to detail
Ability to follow through with procedures and instructions
Highly diligent work attitude and ability to manage a list of to-do's and prioritise workflow
Strong ability to learn new software systems; you are tech-savvy
Ability to handle the data entry and double check the information
Ability to maintain consistent focus
Bonus points for:
You have travel industry experience, especially in a back office function.
When applying for this position, you will be required to write a cover letter. Please make sure you write a detailed cover letter addressing the criteria and explaining why you think you're the right fit for the role.
What's in it for you?
$1300* per month
Full-time and fully remote role ~ 40h per week Monday through Friday
Flexible working hours with availability from 4 PM Melbourne, Australia time for a hand-off call (8 AM EET)
Long-term and stable opportunity to work with a fast-growing company and a supportive team
Monthly training budget of $600 per year
Annual travel credits to use on travel with the company
One free trip per year (up to 4200 AUD in value, flights not included)
Four weeks of paid holidays per year (ie 20 days)
Opportunity to travel occasionally to Europe, Northern Africa, and/or the Middle East to meet providers
Uncapped potential to grow in the role and increase in salary, depending on performance. In fact, the reason this role has opened up is because we have promoted one of our team members.
The opportunities are endless to build the dream role for you. Those with the aptitude and desire will have the ability to grow into management or senior IC (individual contributor) positions.
Candidates who are enthusiastic to grow will receive support to develop themselves. In addition to our training budget, those who wish to do so can learn new tools and systems and become advanced users of platforms such as Airtable.
*Please note that this is a gross salary and that you are responsible for any tax-related procedures in your country of residence. We kindly ask you to apply only if you are happy to work remotely as an independent contractor.

This position will be closed as soon as we find the perfect match. So, make sure to read the description carefully and take your time to submit a high-quality application that stands out. Also, make sure you write a detailed cover letter addressing the requirements and the criteria for this position.
If you apply, JobRack will respond promptly and keep you updated throughout the process.
Please expect the hiring process to include:
1 - Filling in the application form once you click "Apply"
2 - Being invited to record a short video to introduce yourself
3 - Completing test tasks, if short-listed
4 - Attending video interviews where you will have the opportunity to talk more about your previous experience and the new role
Applications are only accepted through JobRack. Leatherback Travel has specifically requested that you do not contact them directly. If you have any questions please contact us using olivera@jobrack.eu

To make sure you receive updates on your application please add olivera@jobrack.eu to your email address book.
Got questions about working remotely? Check out JobRack's FAQ for answers to everything you might want to know. https://jobrack.eu/jobseeker-faq