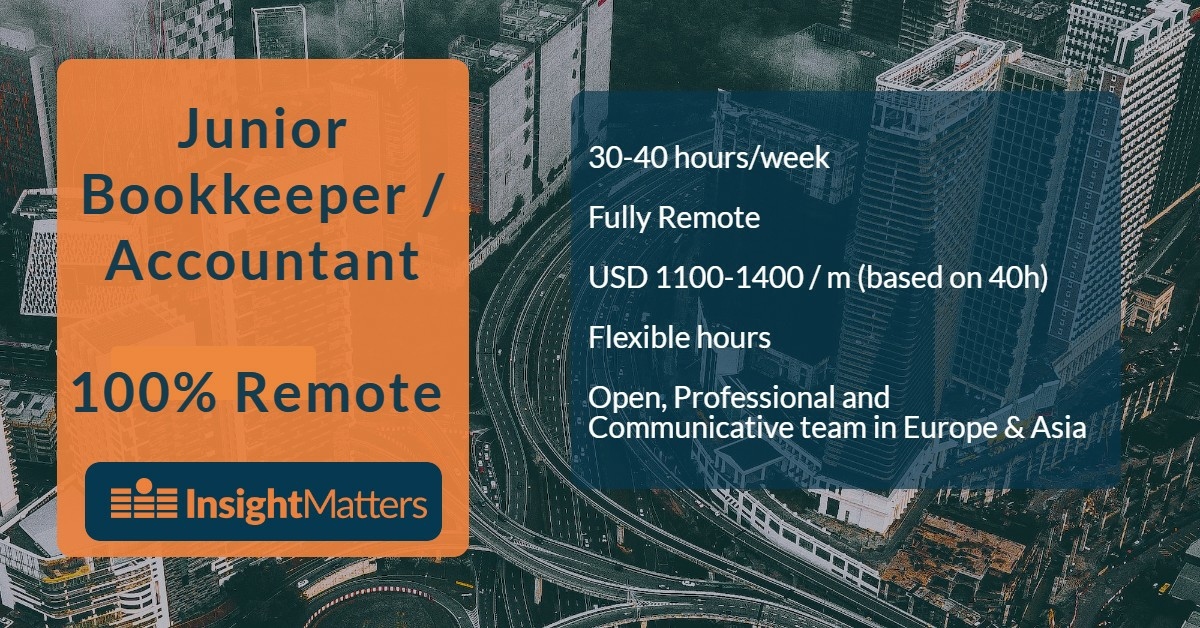 About the role:
We are looking for an ambitious all-round junior bookkeeper/accountant to help us provide our clients with accurate financial information about their businesses.
Who you'll be working with:
We are Insight Matters.
We provide our clients with financial insights that they use to grow faster, better, and healthier businesses. Based on our input, they make life changing decisions about hiring, investing, and improving their strategic plans.
Our clients use our services to answer critical business questions: like, "Can they invest in hiring a new person? Are they getting the right return on marketing? Where are they leaving money on the table? Which products or services are most profitable?"
We are a full-service financial support service, working mainly with e-commerce and service companies - delivering the full finance function, from accounting to fractional CFO services, and from management reporting & analysis to internal control.
Our team is fully remote and currently spread out over various countries in Europe, Asia, and South America, while our clients are mainly in the US, Europe, and Asia. We are a team of 14 and are growing rapidly.
Our #1 priority is delivering quality to our clients – we are their trusted partner for big decisions, so quality is non-negotiable.
We place a strong emphasis on asking questions, learning from one another, and learning from our mistakes in our open, informal, equal, and trust-based team environment.
What you'll be doing
You will manage bookkeeping for a number of our clients, who are in a variety of industries and dispersed across several nations, as we are a young company with a rapidly growing number of clients. The daily and weekly accounting tasks will require your full attention, with an emphasis on AR, AP, and inventory. You will also provide support with the monthly and annual financial closings.
Responsibilities
Post and process journal entries to ensure all business transactions are recorded
Update accounts receivable and issue invoices
Update accounts payable and perform reconciliations
Perform bank reconciliations
Perform account reconciliations
Assist in the processing of balance sheets, income statements and other financial statements according to legal and company accounting and financial guidelines
Assist with reviewing of expenses, payroll records etc. as assigned
Update financial data in the relevant accounting platform to ensure that information will be accurate and immediately available when needed
Prepare and submit weekly/monthly reports
Assist senior accountants in the preparation of monthly/yearly closings
Assist with other accounting projects
To succeed in this role, you most likely have:
2+ years' experience in bookkeeping or accounting, AR/AP management, Inventory accounting, Invoicing and Billing
Experienced in handling multiple clients with weekly and monthly timelines
Good understanding of accounting and financial reporting principles and practices (IAS, IFRS, US GAAP)
Experience with major accounting platforms such as, but not limited to, QBO and Xero together with various online financial platforms, such as, but not limited to, payment channels, banking, invoicing, expense reporting, ecommerce
Experience with working remote
Stable and reliable internet connection is required (30 Mbit minimum)
Personal traits that will help us both succeed:
Super organized & structured
Eye for detail
Dares to ask questions
Eager to learn and grow
Ambition to grow with a start-up in a fast-paced, fully remote environment
Proactively think, bring suggestions and ideas to the table
Take initiative and not be afraid to make mistakes
Constructive feedback is viewed as an opportunity to learn, not as criticism.
Flexible working hours – you can set your own work rhythm, with the only requirement that at least three of your standard work hours fall between 8 a.m. – 5 p.m. CET
Benefits
What's in it for you:
A key role in a young and dynamic team that is changing the future of our clients
Working with a variety of passionate entrepreneurs as clients
Working with in an open, supportive and positive team culture
A setting where initiative is appreciated and rewarded
Benefits:
A competitive salary of $1,100 to $1,400 USD based on a 40-hour workweek (do you think you deserve more? Convince us!)
20 days paid holiday per year
Performance related bonus scheme/profit share in the future
Monthly contribution to your home office costs
Training budget and time
Working hours: 30-40 hours per week
Fully remote work, flexible working hours – set your own work rhythm, with the only requirement that at least three of your standard work hours fall between 8 a.m. – 5 p.m. CET
*Please note that this is a gross salary and that you are responsible for any tax-related procedures in your country of residence. We kindly ask you to apply only if you are happy to work remotely as an independent contractor.