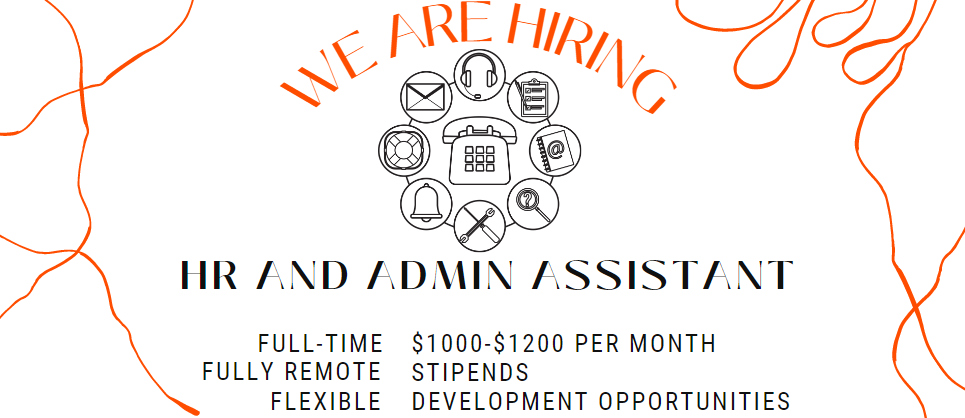 We are an SEO agency that manages SEO campaigns and content marketing for eCommerce brands and software companies in the United States and Europe such as Citizen Watch, Frederique Constant, Bulova, Goat.com and many, many more global brands.
Currently, our team of 21 consists of account managers that manage client engagements, SEO strategists and specialists that drive marketing strategy for our clients, analysts that support the client work, internal marketing and sales teams in addition to a team that runs internal operations.
We need someone enthusiastic, hard-working, highly organised and problem-solving-oriented to serve as a HR and Admin Assistant. This fully remote role is a great opportunity for someone to really develop and progress their skills and take on more responsibility as we grow.
Within the role of our People and Culture, HR and Admin Assistant, you will help drive employee engagement and company culture by:
Establishing and completing projects and processes around employee experience, development, performance and employee recognition
Managing office communications including sending company emails, scheduling internal and external meetings, taking notes, maintaining company calendars, managing company announcements and maintaining Slack channels & newsletters
Working directly with the Director of Operations on daily administrative tasks
Helping to draft company policies & new processes within System Hub
Brainstorming new ways to engage employees & boost morale
Be the go-to planner that comes up with ideas for team events and provide structure and organizing for events, awards, and gifts
Work with the Hiring team to onboard and welcome all new hires, including updating our website's "About Page" and sending announcements via our Company LinkedIn page.
What do you need in order to excel as our HR and Admin Assistant?

Excellent communication skills; you can interact effectively across multiple levels.
Outstanding follow-through, self-directed and highly motivated with a strong sense of urgency.
Strong attention to detail, critical thinker, and proven ability to create simple, sustainable, and organized processes.
Ability to handle sensitive information with discretion and maintain confidentiality.
Advanced written and verbal English skills.
Availability to work at least 4 hours of your working day between 7 AM - 3 PM US ET or 8 AM - 4 PM Boston time (EST in the United States).
Independence; you are proactive in identifying competing priorities and thoughtfully supporting the People Operations efforts.
Love for working with others and utilizing strong cross-functional partnerships to achieve the best outcomes.
You are an effective worker who enjoys tackling new challenges and making people's day.
Deep empathy for the importance of ensuring that every employee has an exceptional employee lifecycle experience. You're eager to support various employee-focused programs, provide operational and administrative support, and protect an inclusive culture across our team.
Leadership skills with authenticity in building meaningful relationships virtually while inspiring confidence in others through your sound judgment and discretion.
Eagerness to help shape and coordinate rituals to influence and enhance our company culture.
Our ideal candidate also has:
Experience working in HR
Experience working remotely
Experience working for a US Startup
Experience working with a Digital Marketing agency
Experienced as an Executive Assistant or in a similar role
What's in it for you?
Monthly salary of $1000 - $1200*
Full-time opportunity with a mandatory 9-3 PM US ET overlap
$3000 annual professional development allowance - this money is to be spent on training, conferences, or anything that helps you excel at your job
24 days of paid holiday per year including sick leave & government holidays
$500 annual wellness allowance
$750 annual work from home allowance
Training included: although we count on your expertise, training and onboarding will be provided
Long-term growth opportunities: job security & steady workload
Fully remote & flexible job opportunity
*Please note that this is a gross salary and that you are responsible for any tax-related procedures in your country of residence. We kindly ask you to apply only if you are happy to work remotely as an independent contractor.
This position will be closed as soon as we find the perfect match. So, make sure to read the description carefully and take your time to submit a high-quality application that stands out.
If you apply, we'll respond promptly and keep you updated throughout the process.
As part of the hiring process, there will be the following steps:
1 - Click Apply and fill in the application form
2 - You'll be invited to record a short video to introduce yourself
3 - Test tasks for the shortlisted candidates
4 - Video Interview where we can get to know each other in more depth


Applications are only accepted through JobRack. The employer has specifically requested that you do not contact them directly. If you have any questions, please contact us using support@jobrack.eu
To make sure you receive updates on your application, please add recruitment@jobrack.eu to your email address book.

Got questions about working remotely? Definitely check out our FAQ for answers to everything you might want to know. https://jobrack.eu/jobseeker-faq