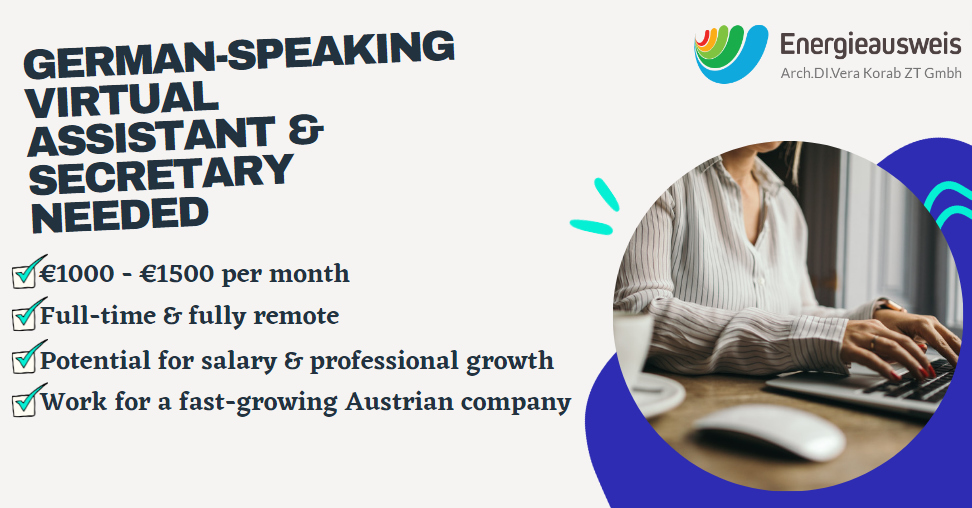 Click here to watch the video from Ruben, the CEO of das Architekturbüro Korab:
Das Architekturbüro Korab is an Architecture Office conducting energy efficiency calculations for real estate. In the past seven years, we have become the market leaders in the industry and we are looking to expand further by automating our procedures.
We are a young and motivated team and the employees receive all the freedom they need as long as they take care of their obligations.
The company is constantly expanding, which is why we are looking for a German-speaking Virtual Assistant & Secretary who will accommodate our growth and open more space for development.
As our Virtual Assistant & Secretary, you will:
Manage calculations
Handle customer requests
Take care of various administrative tasks
Answer emails & incoming phone calls
Create offers
Distribute jobs internally & manage recruitment
Chat via the web with customers
Manage online shop & manage orders
Write offers
Report to the CEO & accounting staff
Although we count on your expertise, training will be organised for you during your first weeks to make sure all the tasks are well understood. During the training, you will learn about our products, structure and you will also write offers.
Tools we use to manage work & communicate within the team:
Skype
Microsoft Teams
Microsoft Office
In order to excel as our Virtual Assistant & Secretary, you need to have:
Perfect German speaking and writing skills
Ability to use business German with little to no accent
Great organisational skills
Great problem-solving skills
Previous experience as an Executive Assistant, Virtual Assistant or Secretary is preferred
No previous experience with architecture is needed for this position.
Our perfect colleague is:
Reliable
Friendly & a team player
A people person
A quick learner
What's in it for you?
Starting salary at €1000 - €1500 per month
Fully remote job opportunity: as long as you are available to work 8 AM - 5 PM Vienna time, you can work from wherever you like
Full-time position: working hours from 9 AM to 4 PM (Monday to Thursday) & 9 AM to 12 PM (Friday) Vienna time
Potential for salary growth
Potential for moving to a higher position within the company, such as a project manager
This position will be closed as soon as we find the perfect match. So, make sure to read the description carefully and take your time to submit a high-quality application that stands out.
If you apply, we'll respond promptly and keep you updated throughout the process.
As part of the hiring process, there will be the following steps:
1 - Click Apply and fill in the application form
2 - You'll be invited to record a short video to introduce yourself
3 - Test tasks for the shortlisted candidates
4 - Video Interview where we can get to know each other in more depth
Applications are only accepted through JobRack. The employer has specifically requested that you do not contact them directly. If you have any questions please contact us using support@jobrack.eu
To make sure you receive updates on your application please add recruitment@jobrack.eu to your email address book.

Got questions about working remotely? Definitely check out our FAQ for answers to everything you might want to know. https://jobrack.eu/jobseeker-faq