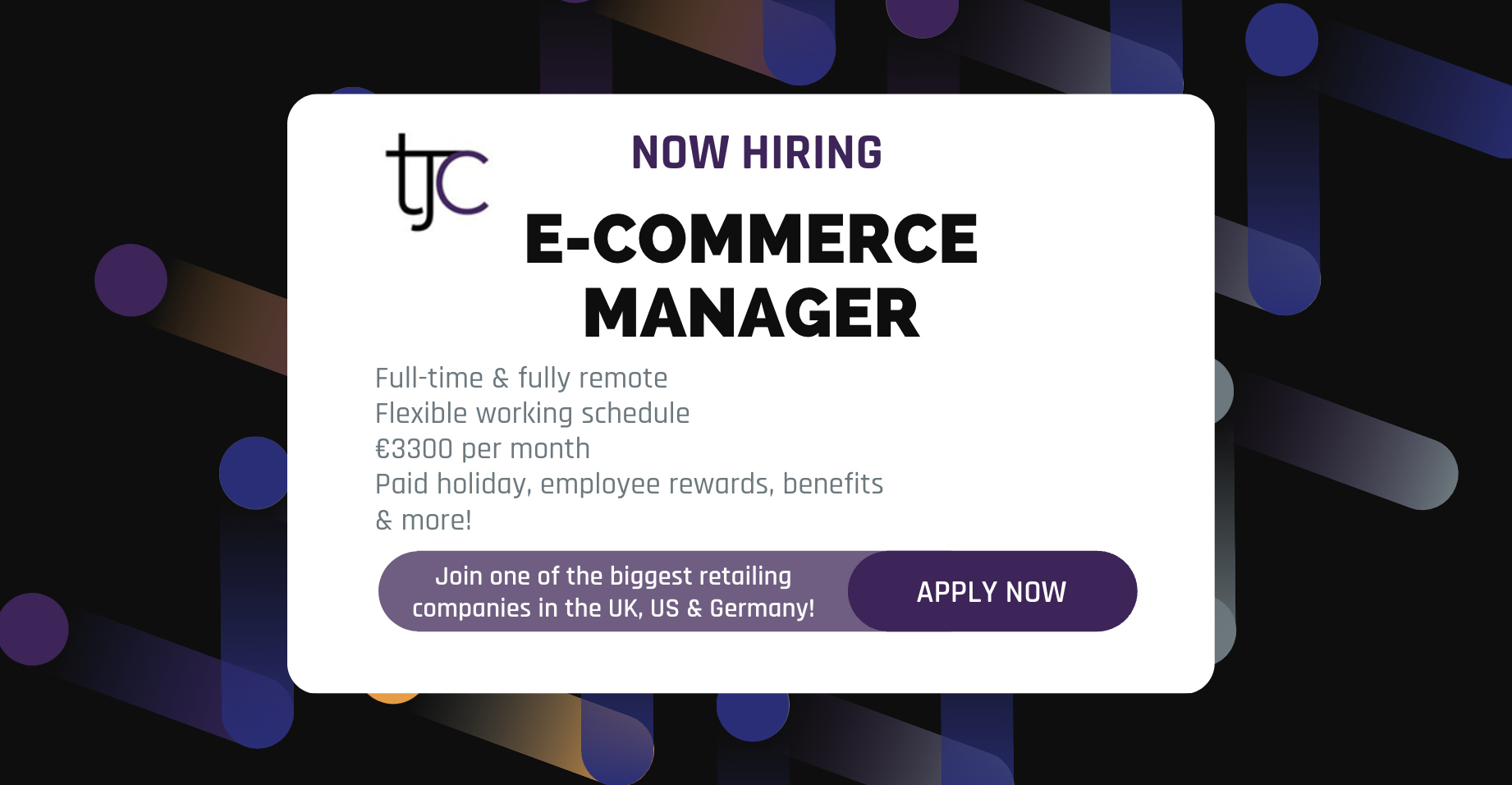 Join the TJC team as and help drive the success of one of the UK's biggest omnichannel retailers! At TJC, they offer a wide variety of products including jewellery, home, beauty, fashion, gemstones, and lifestyle accessories, making us the go-to destination for customers of all occasions and budgets.
As a member of their team, you will have the opportunity to work with a dynamic and dedicated group of professionals who are committed to delivering great value and quality design to our customers. With a reach of over 25 million UK households via live television shows 24/7/365, they pride themselves on our convenience and accessibility, giving customers easy access to a shop with us through TV networks, our website, mobile app, and smart TV devices.
Whether you're from a media background, a sales guru or an IT whizz, TJC could be just the place for you. They want enthusiastic team players that love what they do. Someone who will be an integral part of the TJC machine, helping the continued success of the brand.
They love to work with enthusiastic team players who like to be an integral part of the TJC machine, helping the brand's continued success.
Their Purpose: Delivering joy.
Their Vision: Be the Value Leader in the Electronic Retailing of Jewelry and Lifestyle Products.
Their Mission: To deliver one million meals per day to children in need by 'FY31' through their one-for. one meal program: your purchase feeds…
Their core values are:
🟠Positive Attitude → They are never merely satisfied with what they are achieving on a day-to-day basis and are always looking to strive more and more.
🟠Team Work → They work together to meet the customers' needs and help the company grow and succeed as a collective.
🟠Honesty → A promise of quality at market-beating prices is what is the aim of TJC. You get what you see and that is how they promise loyalty.
🟠Commitment → They aim to deliver quality products & satisfaction with perfection and love as a community to their customers.
🟠Passion → They inspire excellence and find creative ways to eliminate impediments for encouraging growth with passion while fueling themselves with the hunger to do better each day.
TJC is seeking a strategic and analytical professional to occupy the role of the E-Commerce Manager to lead its brand and product initiatives in the US, UK & Germany regions.
As an E-commerce manager, you will work on various product initiatives to drive business growth and customer satisfaction. One such initiative is Tamsy, an e-commerce platform that aims to bring flattering fits and fun fashion to women of all shapes and sizes. The platform offers a wide range of clothing options, from casual to formal wear, as well as accessories, with new arrivals added daily. Tamsy also places an emphasis on affordability, making it easy for customers to build a complete ensemble. Additionally, Tamsy is committed to giving back to the community, by supporting the futures of children, protecting and improving the Earth, and promoting fairness and equality. As a member of the team, you will play an integral role in driving the success of Tamsy, by managing and leading a team, communicating effectively, and thinking strategically about organizational design and team building.
More specifically, as the E-Commerce Manager, you will:
Strategically position the brand and product initiatives in the US, UK & German regions, taking into consideration consumer motivation and market trends.
Develop an in-depth understanding and insights into categories and shoppers at a micro and macro level.
Collaborate with other teams including buying department and customer service.
Create, implement, and execute a digital-first strategy to increase brand and product consideration.
Establish, set, and monitor KPI metrics related to P&L, acquisition, and engagement.
Oversee customer acquisition strategies on platforms such as Facebook, Instagram, TikTok, Google, YouTube, paid social advertising, Affiliate marketing, and SEO.
Manage digital partnerships, collaborations and influencer marketing.
Oversee website experience and e-commerce activities, improve and monitor conversion rate.
Report on, manage and improve analytics and insight.
Review and evolve efficient processes to ensure the team can execute tasks effectively taking into consideration key priorities and deliverables.
Demonstrate people leadership through annual goal setting, one-to-ones, skip Level interactions, half-yearly appraisal, development goals, coaching and mentoring to support team engagement and to develop a high-performing team culture.
Perform ad hoc duties as required.
You will report to the Vice President of Operations, ShopLC with a dotted line reporting to the Managing Director of TJC, UK.
To excel in this role, you need to have:
At least 4-5+ years of experience in eCommerce Management, or equivalent experience in a related role
Outstanding people management skills, with experience leading and developing teams to drive a high-performance culture.
Strong EQ, with excellent interpersonal and communication abilities, and the ability to communicate effectively in diverse settings.
Strong understanding of e-commerce and digital marketing, with the ability to create, implement and execute a digital-first strategy.
Proven track record of delivering results in a fast-paced and dynamic environment.
A high level of business acumen and strategic thinking, with the ability to make data-driven decisions.
Strong leadership skills, with the ability to inspire and motivate teams.
Strong analytical skills with the ability to use data to drive decision-making.
Good understanding of financial metrics and the ability to track and manage P&L, acquisition, and engagement.
Strong understanding of website experience and e-commerce activities and how to improve and monitor conversion rate.
Strong understanding of analytics and insight and how to report on, manage and improve it.
Strong understanding of digital partnerships, collaborations and influencer marketing.
Strong understanding of customer acquisition strategies on social media platforms such as Facebook, Instagram, TikTok, Google, YouTube, paid social advertising, Affiliate marketing, and SEO.
Experience in women's wear with an understanding of the 40+ age group curve/plus size market.
Ability to think deeply about organizational design and team building.
What's in it for you?
Join a fun team environment and great culture
Full-time & fully remote role
Monthly salary of €3300*
Opportunities for profit share
Pension scheme to secure your future
Access to Employee Assistance Program (EAP) for personal and professional support
Convenient free parking space
Employee discounts on products and services
Employee referral program to earn bonuses for recommending friends and colleagues
Recognition and rewards through employee awards
Flexible and open culture that supports growth and career development to align with your talents and passions.
*Please note that this is a gross salary and that you are responsible for any tax-related procedures in your country of residence. We kindly ask you to apply only if you are happy to work remotely as an independent contractor.
This position will be closed as soon as we find the perfect match. So, make sure to read the description carefully, apply promptly, and take your time to submit a high-quality application that stands out.
If you apply, JobRack will respond promptly and keep you updated throughout the process.
Please expect the hiring process to include:
1 - Filling in the application form once you click "Apply"
2 - Being invited to record a short video to introduce yourself
3 - Completing test tasks, if short-listed
4 - Attending video interviews where you will have the opportunity to talk more about your previous experience and the new role
Please note that this is a full-time position as part of the team, requiring 100% commitment, this is not a side job/freelance/part-time and therefore you should be intending this to be your primary and only full-time job/commitment.
If you are found to be attempting to work multiple full-time roles without the knowledge of your employer your employment is likely to be terminated and you will be banned from applying to other jobs from our site.
Applications are only accepted through JobRack. TJC has specifically requested that you do not contact them directly. If you have any questions please contact us using dwy@jobrack.eu
– Only candidates from Eastern Europe are eligible to apply –
To make sure you receive updates on your application please add recruitment@jobrack.eu to your email address book.
Got questions about working remotely? Check out JobRack's FAQ for answers to everything you might want to know. https://jobrack.eu/jobseeker-faq