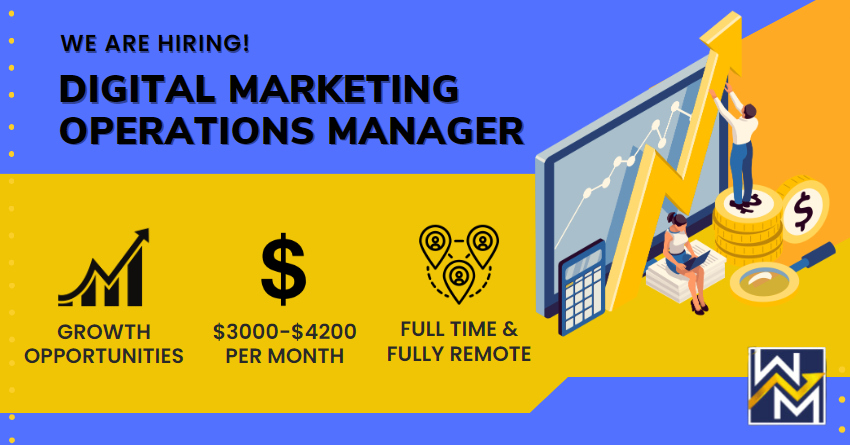 Click here to watch a video by David from Web Marketing for Dentists:

Web Marketing for Dentists is a leading provider of paid search and organic search management services exclusively tailored for dentists, helping them expand their practices and achieve remarkable growth. With a laser-focused approach to bringing in new patients for the dental industry, Web Marketing for Dentists ensures exceptional return on investment, making it the preferred choice for dental professionals.
Over the past few years, Web Marketing for Dentists has experienced significant success, boasting an impressive client retention rate of around 90%. The company has expanded its services beyond paid search to include organic search management, 24/7 chat support, lead booking services, and more. Web Marketing for Dentists continues to strive for excellence by addressing client concerns and providing innovative solutions in this specialized market!
The company's team consists of 14 W2 employees located throughout the United States, primarily focusing on account management and campaign management. They collaborate with a team of web developers and software developers from the Philippines, Europe, and Asia. Together, they ensure clients receive exceptional services and outstanding support.
Working at Web Marketing for Dentists is a fulfilling experience characterized by a flexible and family-friendly work-life balance. The company fosters a culture that encourages individuality and values its employees beyond their professional roles. Micromanagement is not part of the company's philosophy; instead, it emphasizes empowerment and allows employees to thrive as individuals. Web Marketing for Dentists promotes a positive environment that cultivates personal growth, collaboration, and a sense of belonging.
If you want to join a dynamic team and enjoy a fulfilling and empowering work experience, this may be the perfect place for you!
Web Marketing for Dentists is currently looking for a Digital Marketing Operations Manager to join their team.
In this role, you will:
Analyze the functionality of marketing tools and identify areas for enhancement and optimization to improve the overall performance of existing campaigns
Stay abreast of industry trends and best practices in digital marketing to create and execute new strategies - many of these will fail but the few that succeed will be copied by dozens of our clients and prove your strategy a winner!
Test AI tools to identify and upgrade existing processes, with a specific focus on enhancing marketing efforts for dental clients.
Collaborate with the team to close the gap between Marketing & Sales by integrating platforms such as Zapier, Google Ads, WhatConverts, Facebook/Instagram Ads, GoHighLevel, and other marketing and sales tools.
Develop comprehensive data reports that effectively communicate campaign results to both internal and external stakeholders.
Evaluate and streamline processes to improve efficiency and productivity across marketing operations.
Collaborate with cross-functional teams to develop and execute effective marketing campaigns.
Provide training and support to team members on tools, systems, and industry-specific knowledge.
The training will cover various aspects, including dentistry and marketing for dentists, as well as specific platforms such as Google Ads, Facebook, and Whatconverts. Additionally, you will receive training on the company's task management software, Wrike, and other relevant tools. The training process will typically span around one to two weeks, allowing you to gain a deeper understanding of the workflows and processes, although you will be expected to have some previous knowledge.
You will report directly to the CEO David Herman and collaborate closely with all teams across the company. This is a full-time role that requires a minimum overlap of working hours between 11 AM to 3 PM EST, and additional overlapping hours beyond this timeframe are preferred.
To excel in this role, you need to have:
A deep curiosity about how people make decisions and what can affect those decisions
A full understanding of all the marketing basics: targeting, positioning and the power of stories
5+ years of experience in Google Ads and Facebook Ads
Proficiency in Marketing Technology (5 years+ preferred, but not necessary)
Familiarity with AI tools (experience with any AI tools is acceptable)
Strong knowledge of WordPress and Zapier
Effective communication and coordination skills to meet the diverse technological needs of the organization
Brownie points for candidates with experience in GoHighLevel (CRM sales tool) or WhatConverts (lead tracking platform).
The ideal candidate for this role is someone with a strong work ethic and a deep sense of commitment to the company's goals. You should possess a proactive and solution-oriented mindset, capable of tackling challenges without becoming frustrated by the team's potential knowledge gaps. You should bring a fresh perspective and innovative thinking to the table, coupled with a strong sense of determination to see your ideas come to life!

What's in it for you?
$3000 - $4200 per month*
Full-time & fully remote
*Please note that this is a gross salary and that you are responsible for any tax-related procedures in your country of residence. We kindly ask you to apply only if you are happy to work remotely as an independent contractor.
This job opening is actively seeking the perfect candidate and will close once found. To ensure your application is considered, take the time to carefully read the job description and submit a high-quality application that stands out.
The hiring process for this position will include the following steps:
Completing the application form on JobRack.
Recording a short video introduction of yourself.
If shortlisted, completing test tasks.
Attending video interviews to discuss your previous experience and the new role in more detail.
In case you are applying for a full-time role: Please note that this position requires 100% commitment and is not suitable for those seeking a side job, freelance work, or part-time employment. It is important to only apply if you intend this to be your primary and only full-time job. Any attempts to work multiple full-time jobs without the knowledge of your employer may result in termination and a ban from applying to other jobs on the JobRack site.
Applications for this position must be submitted through JobRack and direct contact with the employer is not permitted. If you have any questions, please contact JobRack at john@jobrack.eu
– Only candidates from Eastern Europe are eligible to apply –
To make sure you receive updates on your application please add recruitment@jobrack.eu to your email address book. Got questions about working remotely? Check out JobRack's FAQ for answers to everything you might want to know. https://jobrack.eu/jobseeker-faq