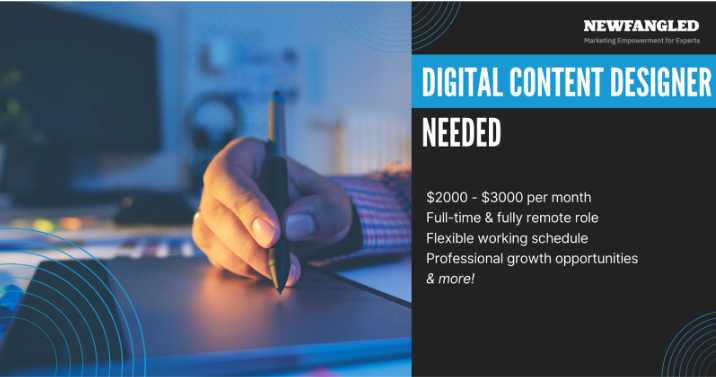 Watch the video from Christopher, the Chief Design Officer at Newfangled:
Newfangled is a B2B business development agency compiled of focused digital marketing experts. Their clients are primarily small-to-medium-sized creative firms, digital shops, etc. and their marketing solutions leverage the power of content marketing, email marketing, and paid media working together. Newfangled measures the success of their clients' marketing initiatives by tracking conversion and event activity on their websites with the ultimate goal of driving leads for their business. All activity is tracked through Newfangled's proprietary reporting software, the Insight Engine.
Newfangled's market awareness is exceptional & they are a stable business; Newfangled is a team of 30 in the US plus a growing remote team in Eastern Europe. They choose to work with clients who appreciate and value their work. The Newfangled team is fully remote and has developed a strong culture as a remote organisation.
📣Join Newfangled as a Digital Content Designer and help us create efficiencies in our content design service and expand our scope of work.
As a Digital Content Designer, you'll be responsible for sourcing and creating imagery, creating digital ads, and managing asset and creative systems. These responsibilities are critical to the success of the company, and the team is looking for someone who is passionate about design and eager to make a difference.
More specifically, in this role, you will:
💾 Manage digital assets
💼 Set up and manage client project workspaces
🎨 Create stock imagery style guides and source imagery
💻 Create digital ads
📈 Create imagery for marketing content and social media
🎨 Assist with website design composition
Newfangled believes in providing ongoing training and support, and you'll receive comprehensive onboarding within the first two weeks. During your first few weeks, you'll get introduced to the systems and processes and meet your colleagues.
In this role, you'll have the opportunity to grow with the team and take on new responsibilities. You'll report to the Chief Design Officer and work closely with a talented team of UX designers, developers, the Creative Director, and the Chief Technology Officer.
This is an exciting opportunity to join a growing team at Newfangled and take your design career to the next level!
To excel in this role, you need to have:
Ideally 3-5 years of experience in digital content design
Proficiency in using Figma
Familiarity/experience with online stock image sources
Knowledge of Slack for daily communication
Good command of English
Creative, resourceful, and high attention to detail
It would be nice, but not essential, for you to have:
Use of Loom for asynchronous communication and demos
Familiarity with Wordpress
The ideal candidate is someone who is comfortable with a variety of smaller, diverse projects and can communicate effectively with colleagues. Your biggest asset would be their ability to handle a mixture of projects as opposed to longer, single-focus projects.
What's in it for you?
💰$2000 - $3000* per month
💼 Full-time role
🕰️ Regular working hours of M-F, approximately 9 am - 5 pm in your time zone
🌎 Opportunity for at least 2 hours of overlap each day with Eastern Standard Time
📈 Lots of room for growth and development, both in terms of responsibilities and compensation
*Please note that this is a gross salary and that you are responsible for any tax-related procedures in your country of residence. We kindly ask you to apply only if you are happy to work remotely as an independent contractor.
This job opening is actively seeking the perfect candidate and will close once found. To ensure your application is considered, take the time to carefully read the job description and submit a high-quality application that stands out.
The hiring process for this position will include the following steps:
Completing the application form on JobRack.
Recording a short video introduction of yourself.
If shortlisted, completing test tasks.
Attending video interviews to discuss your previous experience and the new role in more detail.
Please note that this position requires 100% commitment and is not suitable for those seeking a side job, freelance work, or part-time employment. It is important to only apply if you intend this to be your primary and only full-time job. Any attempts to work multiple full-time jobs without the knowledge of your employer may result in termination and a ban from applying to other jobs on the JobRack site.
Applications for this position must be submitted through JobRack and direct contact with the employer is not permitted. If you have any questions, please contact JobRack at jasmina@jobrack.eu
– Only candidates from Eastern Europe are eligible to apply –
To make sure you receive updates on your application please add jasmina@jobrack.eu to your email address book.
Got questions about working remotely? Check out JobRack's FAQ for answers to everything you might want to know. https://jobrack.eu/jobseeker-faq