Huemor is an award-winning web design agency that specialises in creating memorable websites that drive sales for its clients. Its reputation for exceptional quality and open communication has allowed Huemor to grow and thrive as a company, continuously expanding its services to include branding and striving to become the #1 agency to work with and for.
Over the past few years, Huemor has earned numerous design and agency awards, with many coming from votes by satisfied customers. The team of over 70 talented individuals is located across the globe, including the United States, Philippines, Serbia, North Macedonia, and more. They specialise in WordPress and Shopify projects, boasting a diverse team of designers, developers, project assistants, quality assurance specialists, content writers, and more.
Huemor's company culture focuses on delivering exceptional quality of work while maintaining a fun, engaging atmosphere. They believe in exceeding the clients' expectations, which sometimes means asking the team members to give 110% on their projects. However, they also prioritise work-life balance and encourage the team to enjoy their work and express their creativity.
Here's what Christi C., the Shopify Operations Director, has to say about working at Huemor: "Huemor has collaboration mastered. It's so refreshing to work alongside a group of people who love to do great work. Everyone takes pride in their individual work so we can celebrate successful client projects as a whole. It's empowering."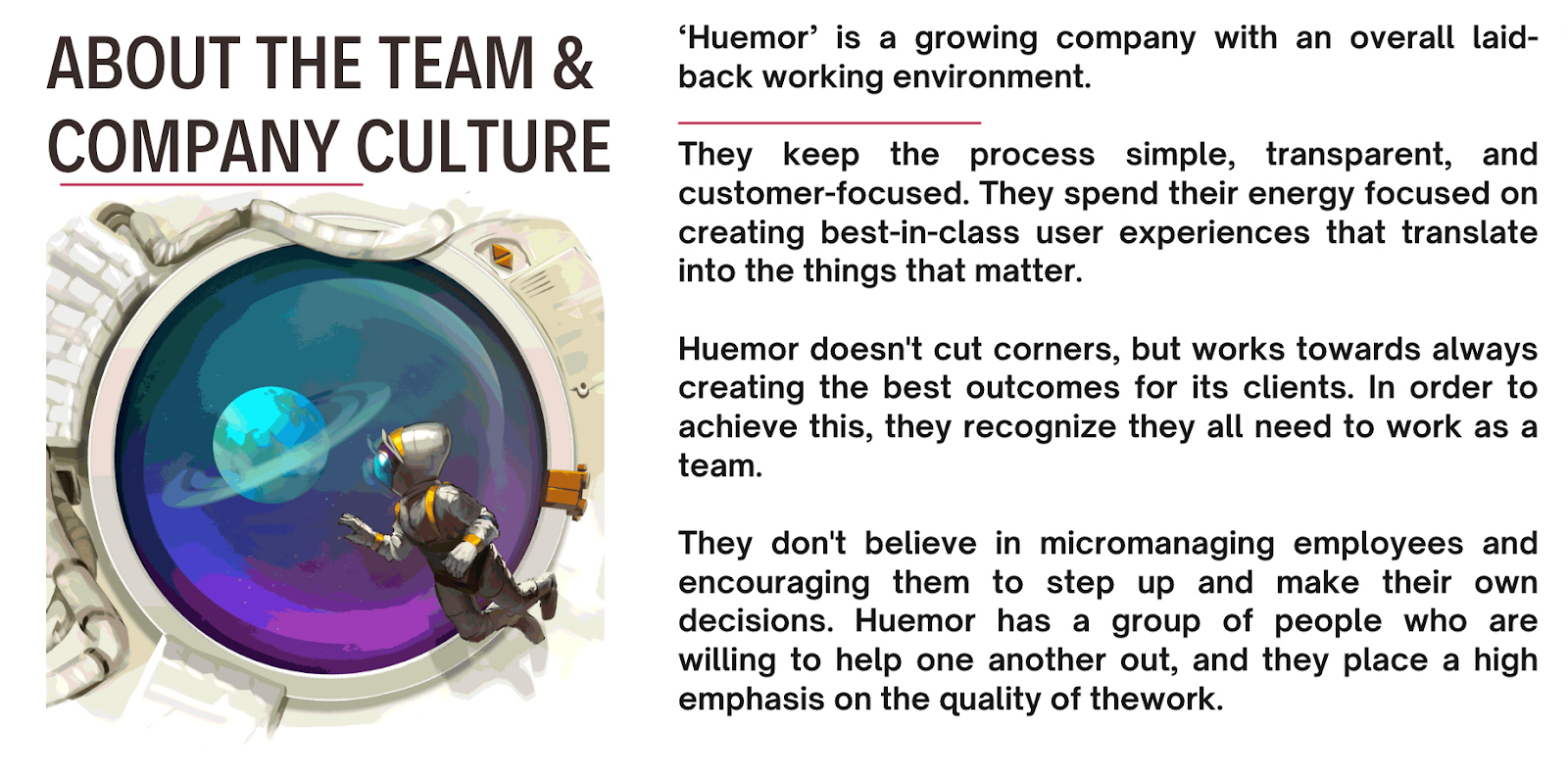 To get a glimpse of the team and company culture, check out Huemor's first US team retreat in October 2022 on Instagram by clicking here and visit the team members' page on their website.

📣 Huemor is now hiring a Support Coordinator to join its team and contribute to the growth of its diverse and thriving agency.
In this role, you will play a crucial part in managing the support systems and ensuring the clients' needs are met. The team at Huemor is excited to welcome a talented individual to become an integral part of their journey towards achieving ambitious goals.
🎯 Your three main responsibilities will be:
1️⃣Managing day-to-day correspondence with the clients and addressing their needs 📩
2️⃣Delegating tickets and ensuring timely resolutions 🕒
3️⃣Overseeing project management and ensuring smooth delivery 📋
🤩 What you'll be excited about:
Immerse yourself in a diverse and inclusive culture 🌍
Be part of a growing agency with a focus on collaboration and excellence 🌟
Work with a supportive and skilled team to drive success 💪
More specifically, within this role, you will:
🚀 The Creation of New Projects: Assist with creating and setting up new projects via ClickUp, HubSpot, and Google
📧 Email Correspondence: Assist with day-to-day email correspondence between Huemor and its clients
🎫 Ticket Support: Transition emails to support tickets in ClickUp, and delegate ClickUp support tickets to their appropriate team member
📊 Reporting: Generate weekly reports for employees' hourly logged time for internal review; generate weekly status reports and logged hourly reports for billable work for clients
📋 Project Management: Support in the overall management of prompt ticket completion
Huemor provides hands-on training for all its new team members, with a training period that typically lasts between 3 to 6 weeks. During your first few weeks, you will have the opportunity to shadow another team member in the same skill group and access a training board set up in the ClickUp system. Later, you will be shadowed by a team member as you actively conduct your day-to-day tasks. As a Support Coordinator, you will work closely with another Support Coordinator, project managers, account managers, and directors. You will report directly to our WordPress Operations Director.
To excel in this role, you need to have:
Experience in customer service (specifically websites or IT) with 1-3 years of experience
Experience working with HubSpot and at least 1 year of experience in project management
A team-oriented personality with a 'can-do' attitude
A genuine desire to learn and improve yourself
A keen sense of urgency
Strong customer service skills
It would also be nice (but not essential) for you to have:
Experience with ClickUp (or similar project management tools like Asana)
Familiarity with WordPress, Google Workspace, and Slack
Experience in troubleshooting and managing small support projects
Experience with participation in or conducting client meetings
What's in it for you?
💸$1000 - $1200* USD per month
🕗Full-time position with semi-flexible working hours with a mandatory overlap with the US EST zone between 8 AM and 1 PM
🏖️Generous paid time off package: 12 days paid vacation, 9 days paid holidays, 5 days paid sick leave, and 3 days paid mental health (personal days), scaling with tenure
💡$500 annual reimbursement for professional development opportunities (certification courses, development books, conference tickets, etc.)
💰Annual compensation increases and opportunities for leadership roles
*Please note that this is a gross salary and that you are responsible for any tax-related procedures in your country of residence. We kindly ask you to apply only if you are happy to work remotely as an independent contractor.
This job opening is actively seeking the perfect candidate and will close once found. To ensure your application is considered, take the time to carefully read the job description and submit a high-quality application that stands out.
The hiring process for this position will include the following steps:
Completing the application form on JobRack.
Recording a short video introduction of yourself.
If shortlisted, completing test tasks.
Attending video interviews to discuss your previous experience and the new role in more detail.
Please note that this position requires 100% commitment and is not suitable for those seeking a side job, freelance work, or part-time employment. It is important to only apply if you intend this to be your primary and only full-time job. Any attempts to work multiple full-time jobs without the knowledge of your employer may result in termination and a ban from applying to other jobs on the JobRack site.
Applications for this position must be submitted through JobRack and direct contact with the employer is not permitted. If you have any questions, please contact JobRack at jasmina@jobrack.eu
– Only candidates from Eastern Europe are eligible to apply –
To make sure you receive updates on your application please add recruitment@jobrack.eu to your email address book.
Got questions about working remotely? Check out JobRack's FAQ for answers to everything you might want to know. https://jobrack.eu/jobseeker-faq