(Video above was created for another role but covers the same relevant background on Growth Partners Media as a company)
We're looking for a mid-level content writer to come on board and help us take our brand to the next level. We are a small marketing agency operating out of the UK providing link-building services to clients all over the world. We're talking cream of the crop, A-grade quality services here with amazing clients doing really cool things in the world.
We typically work with early-stage to Series B -- B2B SAAS companies along with a few special ad-hoc clients. For example one of our recent clients is a play-to-earn metaverse crypto game that just launched a few months ago!
This is a chance to join a relaxed but driven team of Millennials and Gen Z's that can crack jokes, have fun and not take themselves too seriously. On the flip side, we're dead serious about achieving excellence, doing great work and pushing ourselves to reach our full potential.
Not only do we achieve growth for our clients, helping them build their businesses, hire more people and provide more value to the world. But we achieve growth internally by pushing ourselves, challenging our own assumptions and learning from our mistakes 💪
This is a job where you will be tested.
You will need to wear many hats. Deal with pressure. Plan. Prioritise. And step out of your comfort zone. You're not easily phased and can take constructive feedback.
The rewards will be great. As we grow there is not only huge income and promotion potential but the opportunity to learn new skills, get involved in different areas of the business and be part of a startup that is doing things differently.
The role:
You will be working in operations, helping to manage the delivery of client work for a service called Herd Links. This service is centred around building quality links on forums and Q&A websites like Quora and Reddit. Essentially, you will be joining forums, contributing to conversations and learning about all sorts of digital marketing topics along the way. Yes, your job will be to post on forums, chat with people and have fun. Sounds like a dream, right?! But this is much more than meets the eye because fulfilling our service for clients involves a deep understanding of SEO, creative problem-solving and writing like a native English speaker.
If you know how to riff off conversation topics and come up with creative stories to relate to other people and help them solve their problems. This could be something for you! Bonus points if you spent time on forums and sites like Reddit, understand meme culture and can relate to people easily in general.
Since this is a service a little different to most, I'm sharing some comment samples with you here so you can get a feel for the type of things we write on different websites. The topic of comments ranges based on the client we're working on and often result in funny, entertaining conversations: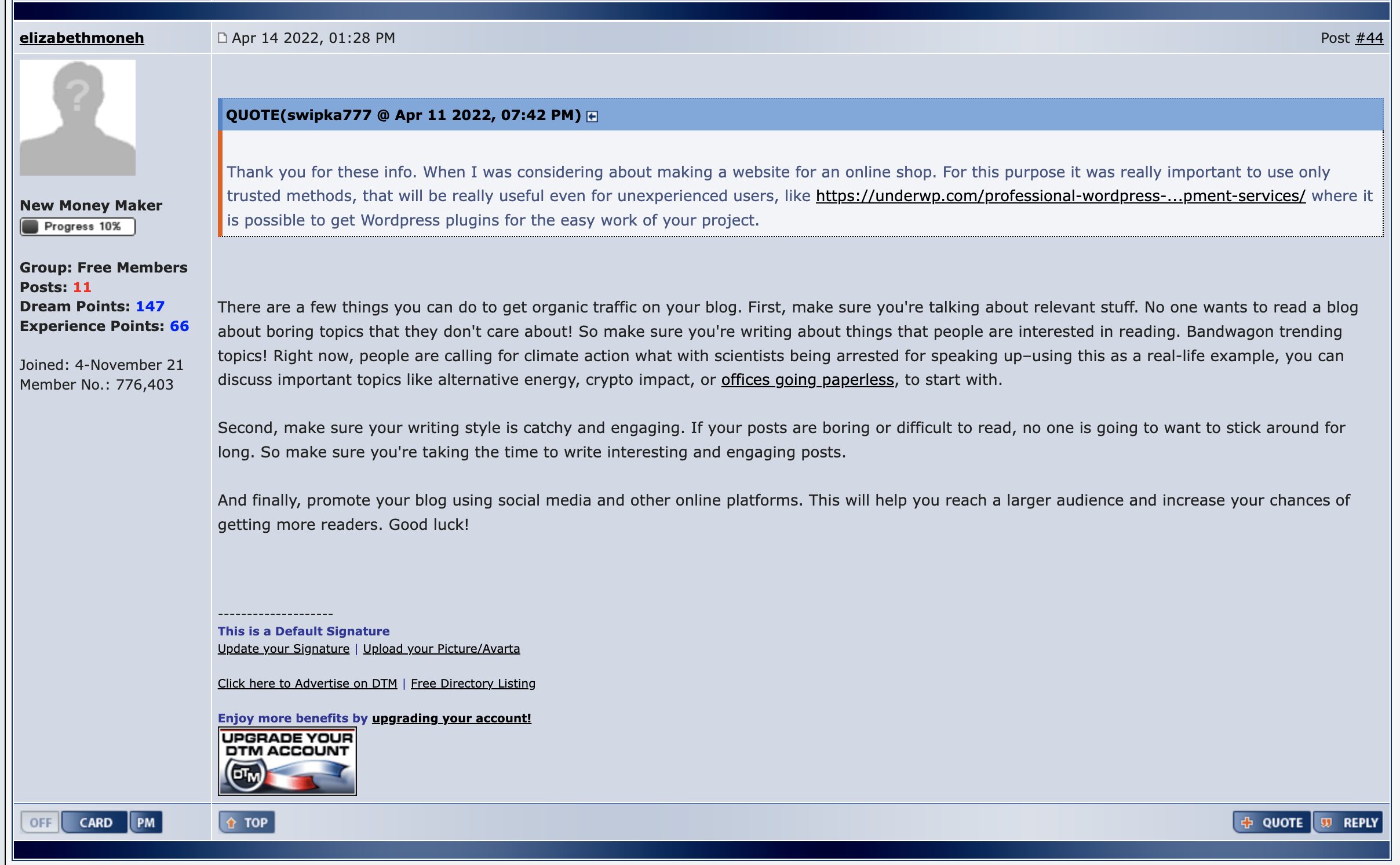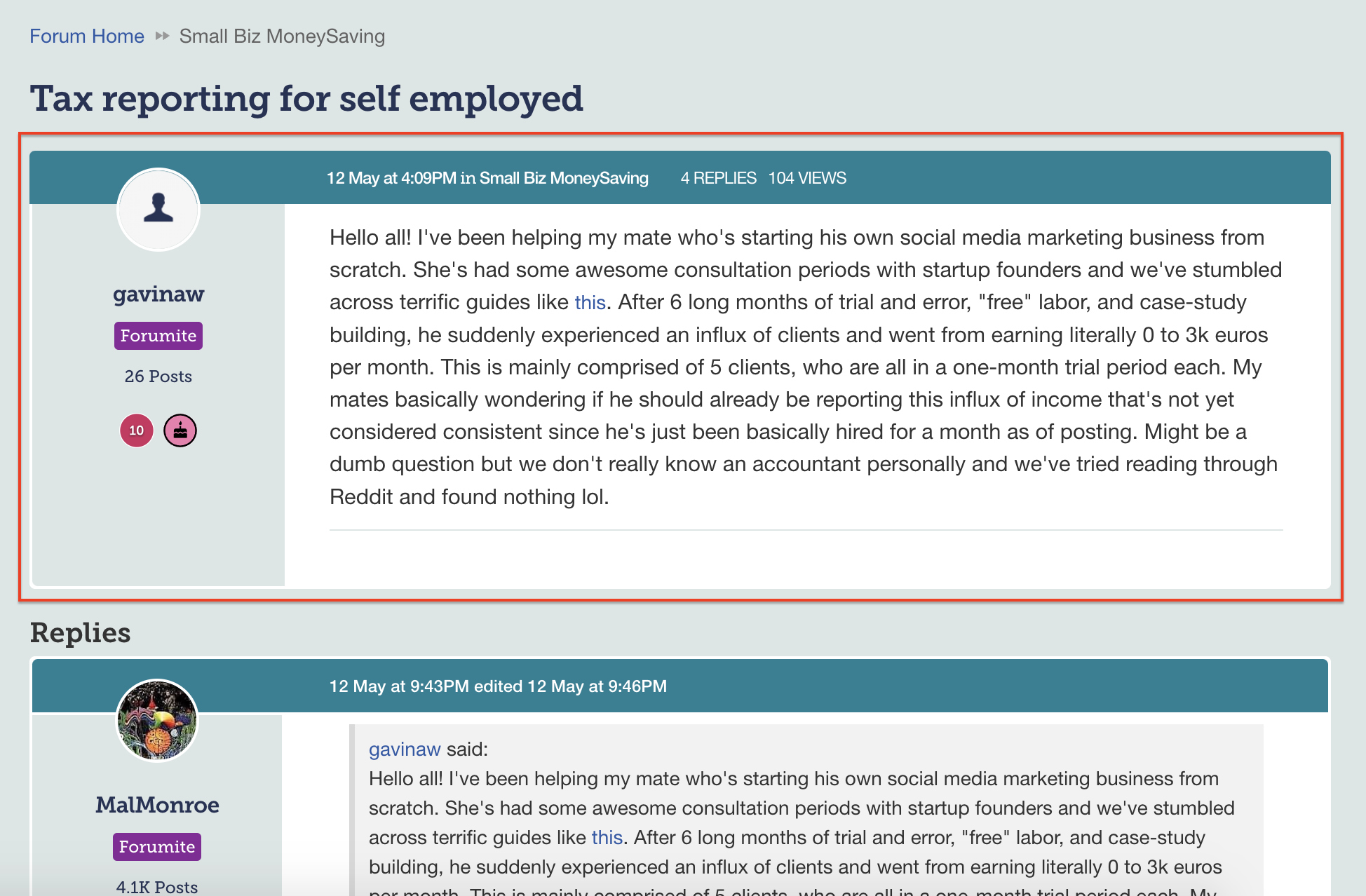 Responsibilities will include:
- Data entry - using tools like Slack, Asana and Google Sheets.
- Managing complex forum posting rules and requirements.
- Sourcing quality forums and creating accounts.
- Posting compelling content (original threads and replies) on forums while adhering to strict guidelines.
- Creating and submitting client reports using Canva
- Coordinate with internal team on management of client projects.
- Manage service improvement, and discover ways to do things better.
- Create systems to automate and streamline repetitive tasks to save time and resources.
- Potential for expansion into other areas.
What we're looking for from you:
- An excellent grasp of the English language, both written and spoken, you've gotta be good.
- You can write exceptionally well. You understand the subtle nuances of the English language.
- You have some experience writing blog content within the digital marketing space.
- You have at least a basic understanding of SEO.
- You can work on your own with minimal supervision.
- You have creative problem-solving skills, you enjoy tackling complex problems and figuring them out.
- You're curious by nature and you love discovering new ways of doing things.
- You love using tools and technology to your advantage.
- You have an eye for detail and regularly go the extra mile to create a quality piece of work.
- You have a good internet connection and can take zoom calls regularly.
- You have an eagerness to learn and develop yourself professionally.
- You can work at least 30 hours per week.
- If you've read through this application be sure to include the keyword "T Rex" in your application.
What we offer you:
- A fun virtual working environment (work from home)
- Extensive training and knowledge-sharing to expand your skillset and develop yourself
- Fixed weekends off
- Competitive pay
- Bonus earning opportunities
- Work on your own schedule
You can apply by sending me a message directly on Jobrack and attaching your CV.
*Please note that this is a gross salary and that you are responsible for any tax-related procedures in your country of residence. We kindly ask you to apply only if you are happy to work remotely as an independent contractor.