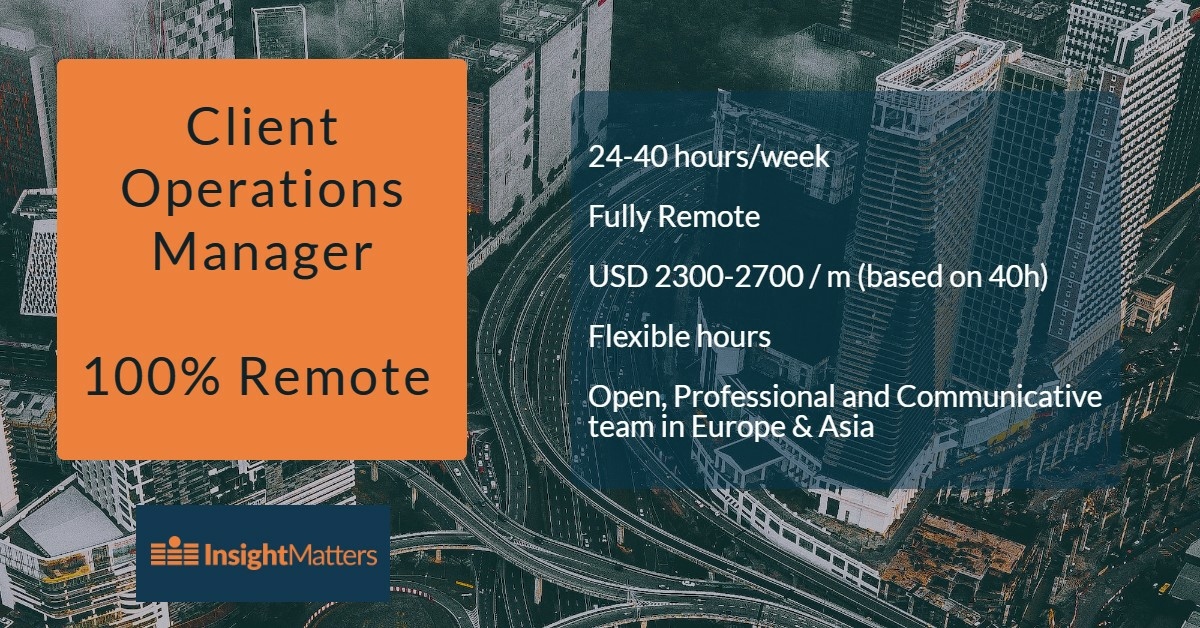 About the role:
Do you love coordinating between entrepreneurs and our high value financial services team? Do you speak the language of business owners and the language of accountants? Do you get energy from bringing structure in hectic environments?
We are looking for a Client Operations Manager who understands the value of our services, coordinates the delivery and timelines towards our clients and is the first line of contact for our clients.
Who you'll be working with:
We are Insight Matters.
We provide our clients with financial insights that they use to grow faster, grow better and healthier businesses. Based on our input, they make life changing decisions about hiring, investing and improve their strategic plans.
Our clients use our services to answer critical business questions: can they invest in hiring a new person? Are they getting the right return on marketing? Where are they leaving money on the table? Which products or services are most profitable?
We are a full-service financial support service, working mainly with e-Commerce and Service companies - delivering the full finance function, from accounting to fractional CFO services, and from management reporting & analysis to internal control.
Our team is fully remote and currently spread out over various countries in Europe, Asia and South America, while our clients are mainly in the US, Europe, and Asia. We are a team of 11 and growing rapidly.
Our #1 priority is delivering quality to our clients – we are their trusted partner for big decisions, so quality is non-negotiable.
Our team culture is open, informal, equal and based on trust and transparency and heavily emphasizes asking questions and learning from each other and our mistakes.
Internally, you'll be working mostly with our accountants, controllers as well as the management team (Rob & Maj) with strong background in Finance, Strategy, Audit and Operations.
What you'll be doing
In a typical week you will:
Coordinate client projects with the client. You make sure that the client knows what to expect from us and when, and make sure that we over deliver on these promises.
Coordinate client projects with our internal team (accountants, controller and management) – The content experts (accountant, controller) are responsible for the quality of the work, but you are responsible for the timelines, translating the clients request & expectations to the team and manage the clients expectations.
Act as the first point of contact to the clients – securing access to new tools they use, answering some of their questions, and routing more complex questions to the content experts.
Securing and constantly improving customer experience/success
Continuously improving client related processes to make them more robust and efficient
Identify improvements we can make to our internal processes and validate these ideas internally
Identify cross sell opportunities where we can help our clients even better
Implement process improvements together with the content experts and management
Balance client expectations with the workload of the team – taking into account monthly recurring deliverables as well as one-off projects
To succeed in this role, you most likely have:
At least a Bachelor degree – preferably in business
3+ years' experience in project management or account management
Near native level English, both spoken and written
Experienced in handling multiple clients with conflicting timelines
Experience with working remotely
Proven interest in accounting and/or finance
Proven understanding of entrepreneurs in e-Commerce and/or Agencies
Personal traits that will help us both succeed:
Super organized & structured
Strong communications & interpersonal skills
Eye for detail
Dares to asks questions
Ambition to grow within a fast-paced, fully remote environment
Proactively think, bring suggestions and ideas to the table
Take initiative and not be afraid to make mistakes
Sees constructive feedback as an opportunity to learn, not as criticism.
What is in it for you:
A key role in a young and dynamic team that is changing the future of our clients
Working with a variety of passionate entrepreneurs as clients
Working closely with 2 complementary founders
Working with in an open, supportive and positive team culture
A setting where initiative is appreciated and rewarded
Benefits:
Competitive salary 2300-2700 -USD per month (Believe you should get more? Convince us!)
20 days paid holiday per year
Performance related bonus scheme/profit share in the future
Training budget and time
Working hours: 24-40 hours per week (to be set in discussion with the right candidate)
Fully remote work, flexible working hours – You can set your own work hours, but note that this role includes client communications with Asia, Europe and US - so some overlap with all three is required.