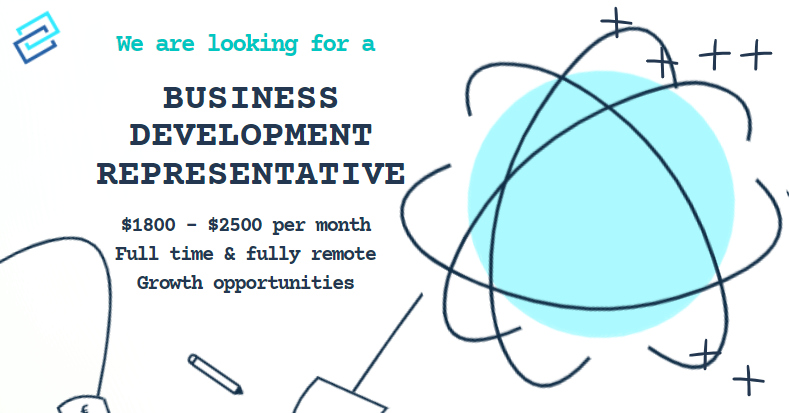 IntVentures, a fast-growing startup headquartered in Canada, specializes in helping strategic buyers source acquisition opportunities. Its clients include industry-leading tech companies like Ringlead (acquired by ZoomInfo), Job.com, Rovio (parent company of Angry Birds), and top investors such as Tiny.
With a data-centric approach and innovative use of technology, the small team at IntVentures is always seeking new and improved ways to deliver value to their clients. They are on the lookout for individuals who share their drive to challenge the status quo and deliver exceptional results.
InVentures is currently looking for a skilled Business Development Representative to join their Sales Team and enhance the Outbound sales function. The successful candidate will bring experience and expertise in consistently generating high-quality leads and closing deals.
Your key responsibilities will include:
✅ Prospecting: Conducting research to identify potential leads within target accounts using various tools such as Zoominfo, LI Sales Nav, and Hunter.io to find their contact information.
✅ Cold Outreach: Reaching out to potential leads via a mix of calls, emails, and LinkedIn outreach to schedule a discovery call.
✅ Email Management: Using Front to manage email correspondence with potential opportunities and coordinate the calendar to schedule calls.
✅ Sequence Creation: Collaborating with Sales Leaders to create and refine email sequences based on lead feedback and data provided by the team.
✅ Feedback: Providing consistent feedback to the team on outreach effectiveness and value propositions that work best.
More specifically, you will:
Communicate InVentures' value proposition clearly and concisely, and address prospects' questions and objections via email.
Manage text-based communication with new and existing leads via Front and LinkedIn.
Maintain up-to-date records on deals and prospects on Pipedrive (CRM platform).
Actively engage with new and existing leads through creative follow-up communication using an omnichannel approach (email, LinkedIn, calls).
Conduct market research and prospecting activities to identify prospects that would benefit from our service.
Develop multiple list-building methods and ways of identifying potential prospects.
Create initial prospect lists, including qualifying criteria that make them ideal targets for outbound campaigns.
Create multi-step outbound sequences to engage cold leads and encourage them to book an introductory call.
Monitor and troubleshoot outbound campaigns on Outreach.io.
Shadow sales calls and presentations, and compile detailed notes for future reference by the Sales and Research teams.
Capture weekly performance of outbound campaigns, discovery calls, and sales presentations, and track KPIs.
Generate new business opportunities and achieve quarterly quotas of qualified prospects.
During the onboarding process, you'll start by learning all about the company and the services they offer. Then, you'll dive into the sales academy and receive expert training on the day-to-day tasks of your role, as well as best practices for sales success.
The first week of onboarding is focused on learning, with an emphasis on ensuring that you fully understand the processes and tools required to achieve success. From there, you'll gradually ramp up your efforts, starting with written outreach and progressing to call outreach. And, throughout the first few months, you'll continue to receive ongoing training and support.
This is a full-time role. For the first two weeks, your will need to be available from 10 AM to 6 PM EST for onboarding purposes. After the initial period, there will be a requirement for some overlap between 4 AM and 12 PM EST, with a minimum overlap of 9 AM to 12 PM EST.
Joining the team at InVentures presents an exciting opportunity to learn and grow quickly in a small company setting. With clients of all sizes, this role provides an ideal chance to gain valuable enterprise sales experience early in your career. In addition to this, fostering a supportive and caring team culture is a top priority for InVentures, ensuring that new members are welcomed with open arms and have the necessary support to thrive!

To excel in this role, you need to:
Have 1+ years of sales experience, ideally as an SDR or BDR
Have experience managing a pipeline of leads
Be skilled in cold emailing, calling, and outreach
Possess an articulate verbal and written presence that is confident, yet personable
Be realistic about temporary challenges and setbacks, and use them to motivate yourself and others to achieve targets
Embrace feedback and be eager to learn and develop sales skills in a startup environment
Be able to work autonomously, handle numerous time demands, and communicate effectively with the team across multiple timezones
:
Brownie points for:
Experience working with Pipedrive (CRM), Outreach.io (Email/calls), Front (Emails), Google Sheets/Excel (Data), Slack (internal communication), and prospecting tools such as Zoominfo, Hunter.io, and LinkedIn Sales Nav
Prior work experience in difficult, customer-facing roles such as service or bartending
Knowledge or experience in the industry of M&A/Corp Dev
The ideal candidate should possess grit and resilience, excellent organizational skills, and the ability to be self-motivated.
However, it's not just about excelling in the role, but also fitting into the company culture. This means having a low ego with high confidence, being open to giving and receiving feedback, and being a strong listener. At the core of the company's values is a commitment to continuous improvement, delivering value, accountability, teamwork, creativity, inclusivity, honesty and integrity. So if you're someone who embodies these traits and values, you could be the perfect addition to this dynamic team!
What's in it for you?
$1800 - $2500* per month OTE (expected earnings including both base salary and commission)
Full-time & fully remote
$150 home office set up
$30 per month towards health insurance reimbursement or gym membership
$100 per year learning and development budget
Paid in-person events such as team retreats
Opportunities for growth
*Please note that this is a gross salary and that you are responsible for any tax-related procedures in your country of residence. We kindly ask you to apply only if you are happy to work remotely as an independent contractor.
This job opening is actively seeking the perfect candidate and will close once found. To ensure your application is considered, take the time to carefully read the job description and submit a high-quality application that stands out.
The hiring process for this position will include the following steps:
Completing the application form on JobRack.
Recording a short video introduction of yourself.
If shortlisted, completing test tasks.
Attending video interviews to discuss your previous experience and the new role in more detail.
In case you are applying for a full-time role: Please note that this position requires 100% commitment and is not suitable for those seeking a side job, freelance work, or part-time employment. It is important to only apply if you intend this to be your primary and only full-time job. Any attempts to work multiple full-time jobs without the knowledge of your employer may result in termination and a ban from applying to other jobs on the JobRack site.
Applications for this position must be submitted through JobRack and direct contact with the employer is not permitted. If you have any questions, please contact JobRack at john@jobrack.eu
– Only candidates from Eastern Europe are eligible to apply –
To make sure you receive updates on your application please add recruitment@jobrack.eu to your email address book. Got questions about working remotely? Check out JobRack's FAQ for answers to everything you might want to know. https://jobrack.eu/jobseeker-faq