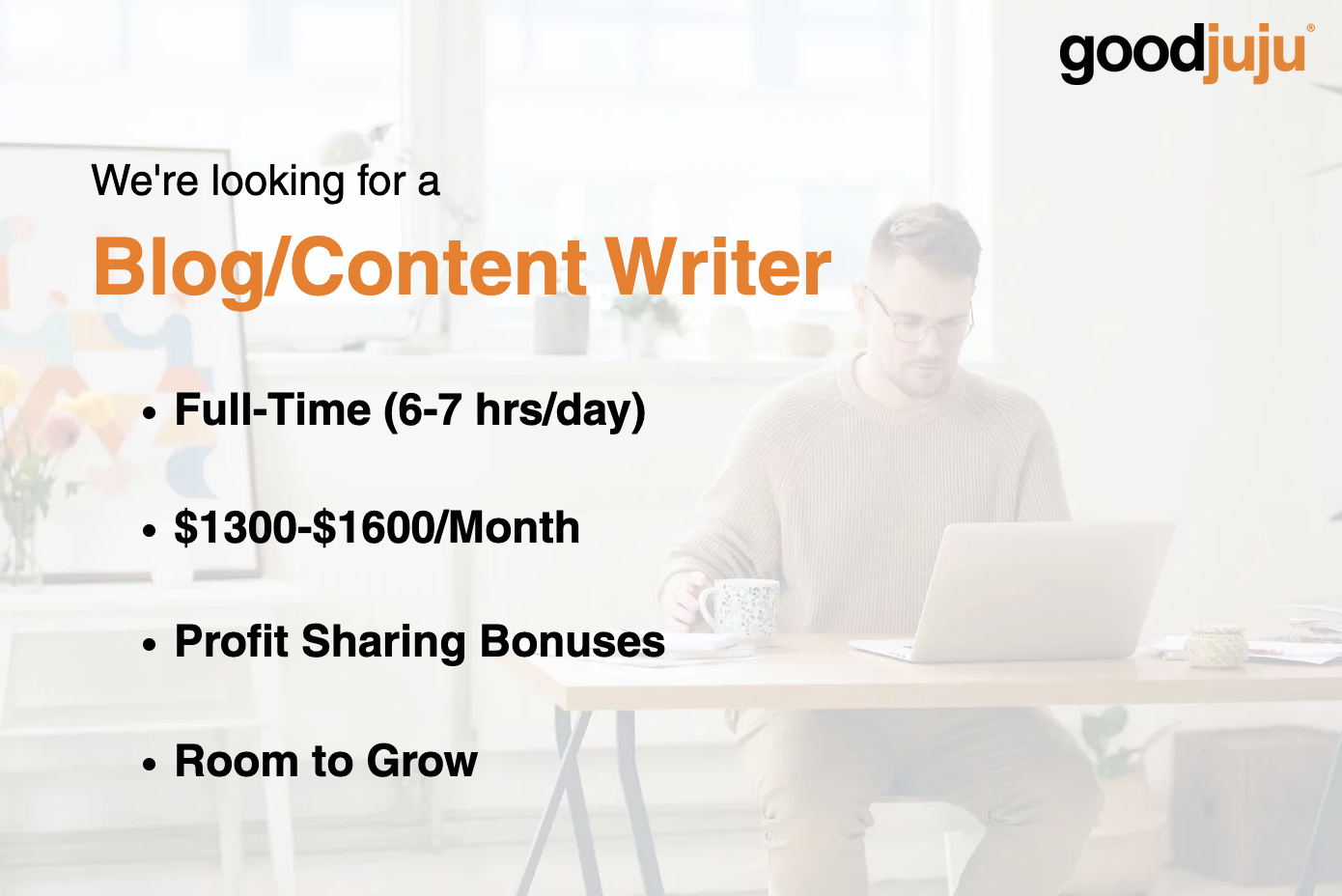 We're a small US based marketing agency that focuses on helping property managers in the US get more clients online with SEO and Google ads. We have team members in the US, Bulgaria, Albania, England, Macedonia, and Montenegro, but we work closely together and love working together.
Goodjuju believes that as we help our clients grow, and as we grow Goodjuju, we (team members) should be rewarded accordingly. You can expect to be paid above average, get bonuses, and have opportunities to learn and grow (if you help our clients and us win).
We are different than most SEO agencies. While other SEO agencies provide services to all businesses in all industries, we focus specifically on property management businesses in the United States. This gives us a competitive edge and our clients love it.
The work we do for our clients is meaningful.
We don't sell to clients and do average "good" work that most SEO agencies do.
We don't go on autopilot with our work and deliverables.
We work super hard every day to go above and beyond in order to serve our clients.
We love our clients by bringing them real results, working on their business as if it was our business, and by working harder every day for their success and their results.

We are growing quickly and need to add an awesome blog/content writer to our team full time. You will be writing unique blogs that are interesting to read about property management, rental properties, and the industry in general. These are blog posts that will go on our clients sites and also used for link outreach purposes.
As a new member of the team, you will:
Research topics to write about
Write unique 700-1000 word blogs that are fun to read
Write an average of 2 blogs per day (40-45 per month)
Edit or add to blogs as necessary
This is a full-time remote position and the hours are fairly flexible. During the onboarding process, you will get familiar with the company's systems, meet our team, and get started on some small initiatives. We have a small & friendly team, and although there won't be any formal training, there will be plenty of support. :)

To be a successful candidate, you need:
To be hungry! Want to work hard and grow
To love writing! We want everyone to enjoy their work
To have great English writing skills that need no/minimal editing or corrections
To stay on track and be self motivated
Have the ability to work alone 95% of the time
Desire to work hard every day, go above and beyond and overdeliver for our clients
Willingness to stay up late sometimes to get work done
Bonus points if you have any experience writing about USA real estate topics

What's in it for you?
$1300-1600 per month DOE
Profit sharing bonuses quarterly
Fully remote
Flexible hours
Opportunities for career advancement
Opportunities for salary growth
We've never had anyone quit and we've never fired anyone (crossing our fingers)
*Please note that this is a gross salary and that you are responsible for any tax-related procedures in your country of residence. We kindly ask you to apply only if you are happy to work remotely as an independent contractor.

This position will be closed as soon as we find the perfect match. Please make sure you read everything above carefully and then apply below.
As part of the hiring process, please expect:
1 - Apply here and provide any relevant info in your message
2 - I will invite you to record a short video to introduce yourself
3 - Attend a video interview where you will have the opportunity to talk more about your previous experience and the new role