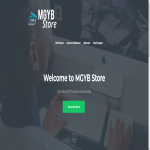 MGYB Report
About
MGYB is an online store that provides DFY (Done For You) services for online marketing and SEO professionals.
We've created processes and systems whereby professionals who work online can get great Search Engine Placement Results (SERPs) without having to do the work themselves.
We have fully trained staff who do the work instead of our clients having to do the work themselves. We are a growing company with great potential for our workers to move up in the company as it grows. This is especially true because we hire from within.
The only time we look outside of our current staff and hire a new person is when no one on our team is qualified or has the skills we require. Join our team for a great work environment, benefits and opportunities.
You can find out more about MGYB by watching this video - https://www.loom.com/share/7a099eac6b834599b1603617db2ca7a7
Website
Jobs Available (0)
Jobs Closed (1)